DonorSearch Prospect Data Research Service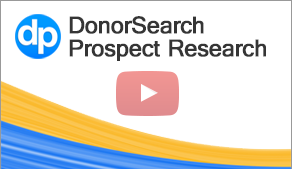 Uncover the secret of your donor's wealth!
DonorSearch's prospect research tools provide invaluable data on donor giving capacity from more than 25 top databases, including:
Philanthropic & biographical data
Real estate holdings
Pension & income data
Stock ownership
Much more!
DonorSearch Difference
DonorSearch understands that a qualified Major Gift prospect's top characteristics are philanthropic driven (e.g. giving to your nonprofit and giving to other nonprofits). Therefore, they deliver prospects that are known for their philanthropy, as well as their financial ability to give.
Use this data to enhance and focus:
Major donor development
Moves management efforts
Appropriate "Ask" levels for solicitations
Targeted annual or capital campaigns
To learn how DonorPerfect and DonorSearch can help meet your fundraising goals,
call (800)220-8111 or click here for a FREE consultation.
Get all the facts and details about DonorSearch on this print-friendly web page.
Learn More
See a live demonstration of DonorPerfect and DonorSearch! Call (800)220-8111 or click here for a FREE consultation.