Donors give more when asked by a friend!
Friend-to-Friend Fundraising for Shelters & Rescues!
Up to 25% off!
Humane Societies and other organizations are empowering supporters to raise funds with personal online fundraising pages! Donors are much more likely to give – and give much more – when they know and trust the person making the ask.
DonorPages makes it easy for supporters to reach out to family, friends and colleagues on your behalf. It's great for special events, campaigns, galas, tributes and ongoing individual fundraising. DonorPages also saves time by eliminating manual entry of donation and contact data when integrated with DonorPerfect, rated highest in it's category for donor management systems by NTEN and Idealware! Plus, first year DonorPerfect clients typically see increases in revenue 5 TIMES the national average!
Now you can empower your supporters AND save money. Through Shelter Partners, you can receive:
10% off DonorPages' first year annual fee
25% off DonorPerfect Online's license fee if purchased with DonorPages
Integrate DonorPages' supporter-driven fundraising with DonorPerfect Online's powerful donor management and reporting tools! Or use DonorPages alone to achieve outstanding results by tapping into your most valuable fundraising assets – your supporters!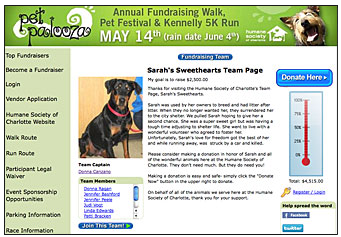 DonorPages has helped us successfully manage our Pet Palooza Festival & Walk and other special events for over two years now. It's a great resource enabling us to keep track of our donor history and event participation, all in one spot! It's also helped us reach new donors through our fundraising participants and increase our donor base.
- Donna Canzano;
VP of Development & Community Relations