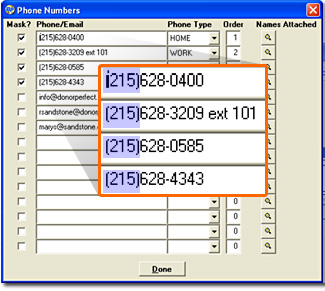 This service is designed to help you improve the quality and accuracy of the phone numbers in your database by ensuring that you have the most current area codes. We will review your data and update all of your existing phone numbers with the correct area code, using a constantly updated database of all area code changes, splits and overlays. All you need to do is provide us with a current backup of your DonorPerfect system.
Commonly Asked Questions
How does it work

The phone numbers in your DonorPerfect database are analyzed by software that maintains a list of all area code changes that have occurred, from the earliest splits to the most recently created area codes. The software reviews the phone number data, along with the corresponding address information, to determine the appropriate area code.

Will this work for all types of phone numbers

Yes, with the exception of wireless numbers, such as cell phones and pagers. Since the program sometimes relies in part on address information, which identifies the physical location of the phone number, wireless phone numbers cannot be updated properly. Address information is sometimes needed with certain area code splits in order to identify the proper area code. However, residential, business, and fax numbers are no problem.

Will my data be secure?

Absolutely. All data is kept strictly confidential.

How long will it take?

The entire process takes only one week. Also, you can continue with your DonorPerfect system while we do the processing. As a result, there is virtually no interruption to your daily work.

How accurate is this process?

Your data is processed using the most current area code information so the process is extremely accurate. For metropolitan areas that have had numerous area code changes over the years the entire area code history is used to determine the proper area code for each number. If there are still phone numbers for which the proper area code cannot be validated with 100% accuracy, these numbers will be identified and provided to you for review.

Service Includes:

Formatting your data for processing.
Updating of all appropriate area codes
Utility that updates your database for corrected areas codes with minimal work on your part
Report on processing results.



Print Friendly