COTA transplant patients & families use DonorPages
to raise over $6.7 million for medical-related costs.
At a Glance
Organization
Children's Organ Transplant Association
Business Challenge
Find a peer-to-peer fundraising solution that's easy to use for constituent families. Save time by allowing families to monitor results on their own, and also integrate donation data with DonorPerfect.
Solution
DonorPages Social Network Fundraising and DonorPerfect Fundraising Software
Key Results
Raised over $6.7 million in online donations
Saved staff time by providing way for families to self-monitor fundraising results
Extended reach to more easily allow international donations
Tripled daily fundraising results

The Children's Organ Transplant Association (COTA) assists patients who require life-saving transplants. COTA has helped more than 1,500 patients and families with fundraising to meet transplant-related expenses — things not covered by insurance — from almost every state and economic situation.
Business Challenge and Solution
COTA was in search of an effective and efficient tool to be used for their nearly 1,000 individual transplant patient fundraising campaigns. As a DonorPerfect client, it made sense to look at integration with DonorPages.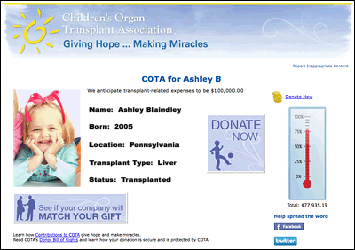 "In addition to fundraising tools and resources, we provide guidance on campaign fundraising for each patient support group." explains Barry Martin of COTA. "Family and friends of patients are very eager to help. But before DonorPages, it was very time consuming keeping up with calls from families for the latest fundraising results. We'd have to run a special report and reconcile that with possible checks or bank transfers that had yet been processed. We were providing a great program – we just needed a better process."
With DonorPages, things went much more smoothly. "DonorPages is a huge tool for us. It allows our support staff and families to get a snapshot of how a patient's campaign is doing, simply by visiting their page. Donors get immediate feedback when they donate, and family, friends and fundraisers no longer need to contact us for updates."