Girl Scouts of Southern Nevada uses DonorPages' flexibility
to promote their brand and increase active donors!
At a Glance
Organization
Girl Scouts of Southern Nevada
Business Challenge
Find a flexible friend-to-friend fundraising solution to help expand their active donor base, save staff time, and integrate with DonorPerfect Online.
Solution
DonorPages Social Network Fundraising and DonorPerfect Fundraising Software
Key Results
Able to keep campaign branding consistent with print materials and other media
Surpassed event goal amount by 20%
Nearly matched total 2010 active donor levels in just first two quarters of 2011
Reduced campaign donor attrition rate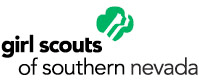 Girl Scouts of Southern Nevada provides developmental programs for girls from 5 to 17 years old. Through Girl Scouts, girls discover their leadership potential with increased self-confidence, creative decision-making skills, and teamwork.
Business Challenge and Solution
Girl Scouts of Southern Nevada were looking for an online fundraising component that would help reach donors beyond their base. It needed to very flexible visually, to keep consistent with their Girl Scout brand and multiple campaign and event themes. They chose DonorPages to promote friend-to-friend fundraising.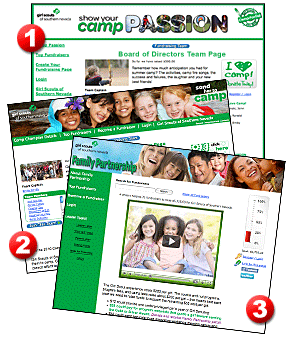 DonorPages makes it easy to create sites for campaigns and events.
The 2011 Campership site incorporates multiple logos, banner ads & custom buttons
The Camp Champion Challenge site lists different themed camps
The Family Partnership site displays a video & includes materials & guidance under the Leader Toolkit in the menu
Emily Smith, Chief Marketing & Development Officer, explains, "When I joined Girl Scouts, we had multiple databases containing donor information. The need for a donor database was clear, but cost was an important factor. We looked at a number of programs including BlackBaud and Kintera, but DonorPerfect offered the most capabilities at the best price. When DonorPages was added, we were thrilled! The addition of friend-to-friend fundraising capabilities integrating with our donor database is like a dream come true!"
Another important factor was DonorPages' flexible design capabilities. "Branding is a huge piece of our marketing and development efforts." says Emily. "We're able to customize DonorPages very easily."