Monthly Giving features SafeSave™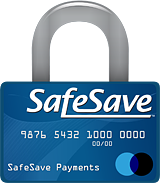 Secure hosted storage of credit card and bank account data — eliminating PCI compliance concerns associated with storing cardholder data within the nonprofit's computers.
Monthly Giving, electronic funds transfer for nonprofits, automates the processing of preauthorized recurring credit card and ACH bank debits. Just enter the donor's credit card or bank account information once, as part of their pledge. The donor's data is securely stored at a PCI-compliant gateway hosting facility, so no sensitive cardholder data needs to be stored in your computers or offices. With just a few mouse-clicks each pledge payment cycle, Monthly Giving sends, processes and posts every donation. Its fast, secure and a huge time saver.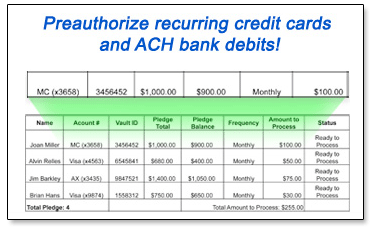 Benefits
Less Administrative Time and Cost – Monthly Giving will automatically collect and record gifts, and adjusts pledge balances, saving posting time and cost. By eliminating the high cost of pledge collection, you'll net more funds for your organization.
Automatic Fulfillment and Reliable Cash Flow – Once donors sign up for recurring giving, pledge collection is automatic. This means all pledges are paid in, and your cash flow will be improved and predictable. Instead of spending your valuable time sending pledge reminders, send your donor a letter of appreciation!
Encourages Larger Gifts and Annual Renewals – By allowing donors to spread their contributions over the year, it is easier to generate larger pledges. And once a donor makes an Monthly Giving Direct Gift, you can count on increased annual renewals and giving levels.
Enhanced Convenience for Donors – Monthly Giving is simple for your donors. They won't have to remember to write checks or renew their pledge, making their busy lives easier.
Better Security and Control of Funds – No more worrying about lost checks, mishandled funds, or deposits not being made in a timely fashion.
---
Commonly Asked Questions
How does a donor sign up for Monthly Giving?

The donor just signs a simple pledge form, which includes their credit card information or a voided check. Once entered into our SafeSave system, you can eliminate the storage of this data (physically and in your computer). We even have a complimentary recurring gift mailer to help you enroll donors!

Can I use Monthly Giving with another bank or processor?

We've established relationships with the leading industry experts to provide Monthly Giving and credit card processing services for our clients that integrates with DonorPerfect. They also offer the unique ability to process savings, checking and credit card transactions with a single service. Banks that offer Monthly Giving and credit card processing require separate software, data transmission and processing, resulting in additional work.

Does this work with our existing bank account?

Yes, all funds will be deposited automatically in your current bank account(s) and shown on your monthly statements like all other deposits.

Can Monthly Giving handle any pledge payment schedule?

DonorPerfect allows you to set up pledges of any amount on any payment schedule—monthly, quarterly, semi-annual, annual, or any donor specified schedule.

Why offer credit card and bank draft options?

Although Monthly Giving automatically handles both bank and credit card payments, you decide what your organization will offer. Credit cards are convenient for one-time gifts and popular with donors who earn miles or other incentives and/or require payment flexibility. Bank drafts eliminate credit card charges and offer other advantages. Offering donors a choice maximizes donor participation.

Can I track solicitation and GL codes with Monthly Giving?

Nonprofits can fill in relevant fields like General Ledger (GL) Codes, Solicitation Codes, Campaign names, user defined fields, etc. These values will be brought over to pledge payment records when they are generated by the Monthly Giving Module. You can then use this data for your reporting and analysis.

Can I use Monthly Giving in Canada (and/or process Canadian dollars)?

Yes! We work with Canadian merchant account providers for Canadian charities, and Monthly Giving can process transactions in both US and Canadian Dollars.

Monthly Giving has dramatically simplified our pledge fulfillment. In fact, we now offer an incentive gift for donors who sign up for automatic payment of their pledge. As a result, we now have a larger portion of donations automatically collected each month with virtually no effort. The efficiency and reliable cash flow is truly wonderful.

– Toya Hall, La Promesa

[printfriendly]