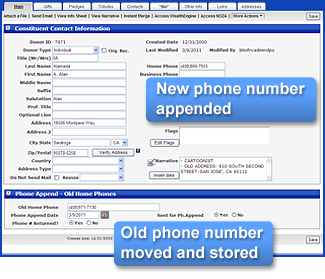 This service is designed to help you improve the quality and accuracy of the phone numbers that you maintain on your donors and prospects. All you need to do is provide us with a backup of your DonorPerfect data. These records will be matched against a national database of current residential phone numbers, which are then appended to your donor database.
Phone Numbers For
Telethons
Major Donor Development
Cause Alerts
Any other Donor Contact
Solicitor Calling
Commonly Asked Questions
How does this service work?
Your database records are compared to a national database that covers over 110 million households. Whenever there is a match, the residential phone number is appended. On average, 40%-60% of names submitted are returned with a phone number. The phone numbers added will be coded to indicate their source.
Will my data be secure?
Absolutely. All data is kept strictly confidential.
Where do you get the phone numbers?
The database was compiled by gathering over two billion pieces of information from all U.S. white page phone directories, automobile registrations, courthouse records, and other publicly available sources of information. Over 85% have been verified by multiple sources.
Please note: This service is for land-lines only – not cell phone numbers.
What if I already have a donor's home phone number?
Existing phone numbers will be "verified", and new ones will be added. No phone number information will be removed or replaced.
How long will it take?
The entire process only takes one week, and you can continue to use your system while we do the processing.
Service Includes
---
Formatting your data for processing.
Creation of matching residential phone numbers file.
Utility that appends phone numbers to your database with minimal work on your part.
Report on processing results.

Print Friendly