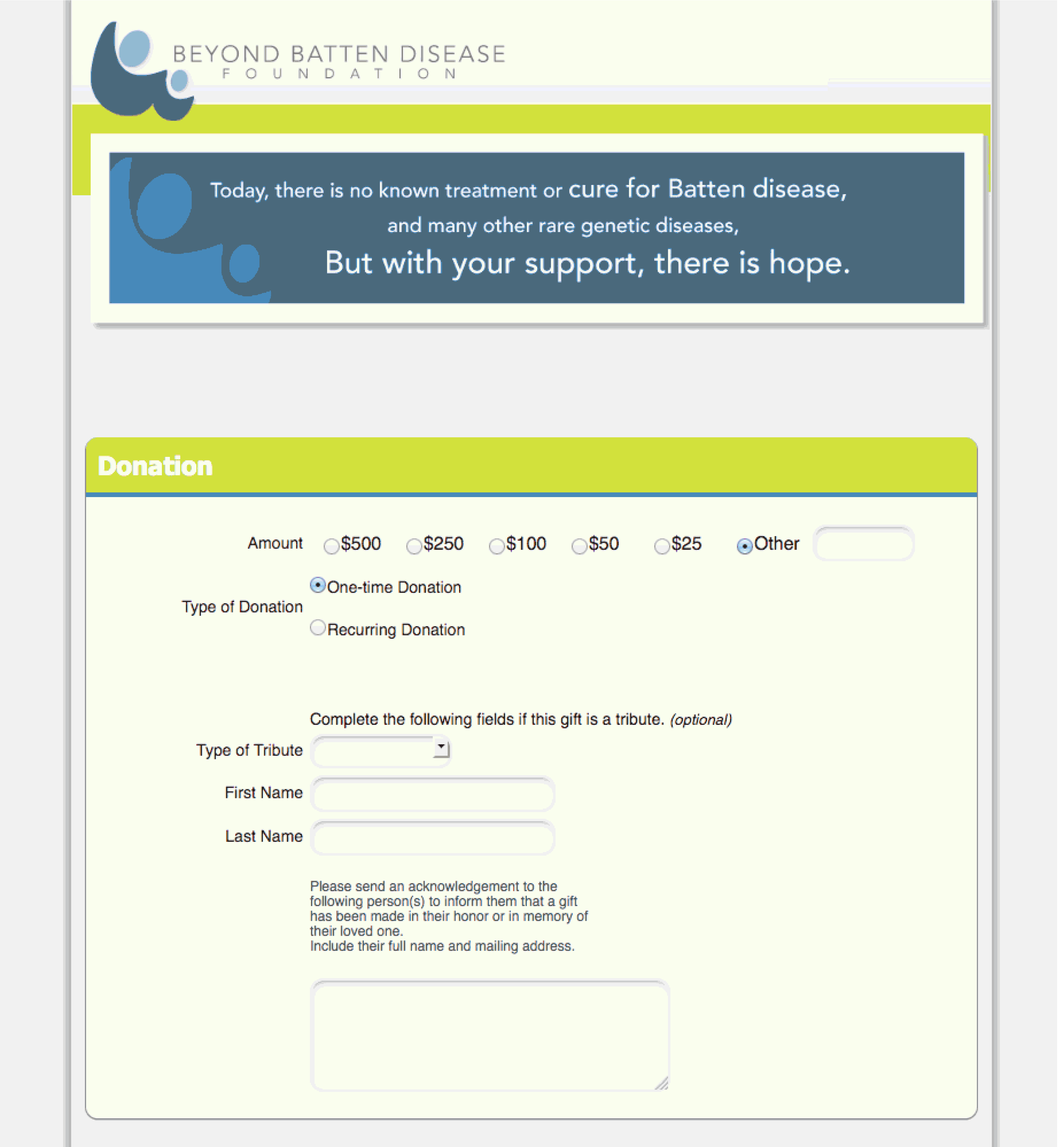 Secure, Affordable, Easy;
DonorPerfect Fundraising Sites
WebLink makes it simple to create and manage online forms that integrate with DonorPerfect. You can easily generate forms using our "do-it-yourself" form templates. Or ask us to provide a quote to create or customize your form for you. If your form collects donations or fees, payments are deposited directly to your bank account.
Collected information and transactions are easily viewed through WebLink's review center. Then it's a simple download directly to your DonorPerfect Online database. If you're using DonorPerfect Installed, you can easily import the downloaded data. Either way, your form data is correctly mapped to your DonorPerfect fields, so you can easily review, sort and filter using DonorPerfect's powerful reporting tools.
Online Fundraising Sites and Forms Benefits:
Save Time! Eliminate manual data entry.
Encrypted & Secure!

Over $1 billion*

processed online via WebLink forms.


*As of October 2015

Reduce Costs! Donors Cover Costs option allows constituents to ensure 100% of their gift goes to your mission by adding extra donation to cover payment processing costs.
Manage Events! Now integrates with DonorPerfect Online Event Management module!
Improve Results! Donors give more when using credit/debit cards.
Save Money! Reduce postage/mailing costs, paper registration forms and handling checks.
Quick Payment! Donations, registration fees and item sales are deposited to your bank account within 48 hours.
Quick Turnaround! "Do-it-yourself" templates allow you to create a form in minutes.
NEW Form Styler! Control color scheme, fonts and layouts. No HTML or web design experience needed.
Customizable Online Forms for:
Donations, pledges and gifts
Event registration
Information requests
Volunteers
Memberships
Fundraising item sales
Contact/email list sign-up and more!

Encryption & PCI Compliance Protects
Donor Data:
SafeSave Vault ID's keep your donor's payment account data secure in a PCI-certified gateway. Not on your computer or network. Not on our server. Donor data is safe, with no need to re-enter card data for future donations.
WebLink Integrated with DonorPerfect Online: Benefits Comparison
WebLink included with DPO price
(requires merchant account)
Add unlimited additional forms – no annual
hosting fee
Use "do-it-yourself" templates for quick set-up and to avoid new form set-up costs. Or we can provide a quote to set up your form.
Copy any existing form and modify existing fields, transaction amounts, email options
and more yourself
Additional fields and transactions items (donations, fees, etc) can be added. Requires upgrade to WebLink Pro. Please ask for details.
See a live demonstration of DonorPerfect and Weblink! Call 800-220-8111 or click here for a FREE consultation.