The latest upgrade provides a revolutionary new look and feel, enhanced PCI-Compliant payment processing solutions, a new option for hosted storage of documents, files that can be linked to donors, gifts or contact records, and more.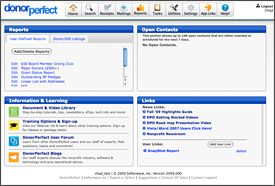 Horsham, PA — SofterWare, Inc. recently introduced the latest version DonorPerfect Online (DPO), the top-rated fundraising software solution as noted by independent organizations NTEN and Idealware.
A few of the major highlights of this newest release include:
A fresh and enhanced user interface and navigation menu, designed to take advantage of the latest technology and make it even easier for staff to efficiently and effectively use DonorPerfect Online's ever-expanding capabilities.
A suite of enhanced donation processing tools, featuring SafeSave™, our secure hosted tool for storage of credit card and bank account data – dramatically reducing PCI compliance issues associated with storing cardholder data within any nonprofit's computers.
A new hosted file management service that enables nonprofits to link virtually any type of document or file to a specific donor, gift, pledge or transactional record. The file is automatically uploaded and stored on DonorPerfect's secure servers and can be accessed by anyone, anywhere with the appropriate access rights to the data.
Jon Biedermann, Vice President for SofterWare, noted, "This latest upgrade is the work of several years of research, design and user testing. Our mission was to take a very good fundraising software solution and make it great! The new interface, combined with our secure transaction processing suite, will make raising money faster and easier than ever before."
Dena Fisher, a development consultant for several organizations that use DonorPerfect Online, noted, "I positively love it. I've found it to be even more logical than the old version, which was pretty logical. I think it looks/acts great."
Doug Schoenberg, CEO of SofterWare, noted, "We're really excited about the improvements in this new release, which are the direct result of feedback from our clients. Most importantly, because DonorPerfect Online is fully hosted software as a service, every one of our thousands of users was automatically upgraded instantly, and without any work or need for IT support. Now more than ever, nonprofits want to stay focused on serving their constituents and raising critical funds for their mission – not on the expensive task of managing technology."
About SofterWare, Inc.

SofterWare, Inc., based in Horsham, Pennsylvania is a leading provider of software to nonprofit organizations, with over 10,000 clients throughout the world. In addition to the company's DonorPerfect fundraising software, SofterWare also offers software for managing childcare centers, public and private schools, and camps and conference centers. For more information on SofterWare and its products, please visit www.softerware.com. For more information on DonorPerfect Fundraising Software, please visit www.donorperfect.com or www.donorperfect.ca.
Media Contact
Sam Goldenberg
215-542-4390 x233
sgoldenberg@softerware.com
www.donorperfect.com