March 2, 2017 | Categories DonorPerfect Fundraising Software
New and Updated Features: Monthly Giving and DP Community

This weekend, we'll release a new version of DonorPerfect that improves our Monthly Giving feature and introduces the new DonorPerfect Community. These improvements will help you be a more productive and effective fundraising professional! Read on to learn how.
EFT Management is now Monthly Giving!
Effective this weekend, we're renaming our EFT Management feature to Monthly Giving, since most recurring donors prefer to give monthly. We've kept all the same great functionality of our current recurring gifts management and made it even better. The new Monthly Giving screens are more intuitive and easier to use. We think you'll find that processing recurring gifts goes much smoother.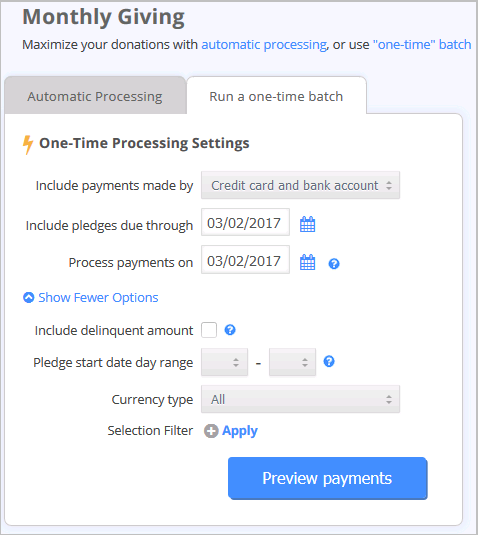 With this release, we're preparing the way for Automatic Processing. This time-saving service enhancement to our current Monthly Giving features isn't available yet, but it's coming soon. With Automatic Processing, you won't have to remember to go into the Monthly Giving module to process payments once a month; DonorPerfect will automatically check to see which pledges in your recurring gift program are due and process them for you.
DP Community Replaces Key DonorPerfect Components
Also happening this weekend, tools like the Knowledgebase,  Suggest and Vote, User Forum and others will be replaced with the new DonorPerfect Community. To access it, you'll need to make sure that your User ID has a unique email address. You can make all the necessary updates in Settings > Parameters > User Settings. Our support team is available to step you through the process. You can also visit How to Edit the Email Address of Your User ID to learn how.
Be sure to watch this quick two minute video for a preview of the new DonorPerfect Community.
Release Notes
Changes to Monthly Giving and our new DP Community aren't the only changes in this release! Read about the enhancements and fixes in the DonorPerfect 2017 Release Notes in the Knowledgebase.