References
Serving nonprofits since 1986, DonorPerfect has helped over 25,000 users raise funds, cultivate constituent relationships and save time. Here are some typical clients and their comments. We are happy to provide additional references upon request.
Multi-site Installations include:
UNICEF International
(over 35 countries)
The Salvation Army
(Eastern Territory)
Girl Scouts of America
(over 100 installations)
Boys & Girls Clubs
(over 200 installations)
Hillel International
(over 50 student organizations)
Little Sisters of the Poor
(10 sites using DonorPerfect Online)

"Great software, easy to use and super helpful!
My organization has been using DonorPerfect for the past year and couldn't be more pleased. We are still finding new ways we can use the software because of its capabilities. The best part is the support service! They are always so friendly and willing to go the extra mile to make sure you get the report that you need, processing credit cards the best way or just changing the screen around to make it more compatible. We are so glad we made the choice of DonorPerfect!"
Brynne Moore
Life Crisis Center



"I am totally pleased with DonorPerfect and we've told other nonprofits in the area that we're pleased. We now have precise and correct database information that's easy to edit, easy to print labels, easy to run reports....it suits our needs perfectly. :) My overall experience with DonorPerfect is a 10."
Lynne King
Public Relations Specialist
Muncie Public Library
"We've quadrupled our donor database! Last year, we had roughly 2,500 gifts – a record number! We've raised $14 million for the new building thanks to the successful capital campaign, in addition to raising what we need to cover regular expenses. I can honestly say we would not have had all this success without DonorPerfect."
Greg Steinberger
Hillel at the University of Wisconsin - Madison

"We did some looking at the different options out there and quickly narrowed it down to DonorPerfect. We've been very satisfied with the product and I'd recommend it to others."
Bob Mayre
New Orleans Area Habitat for Humanity

"In the first year, we increased gifts over 80%! After two years, we more than doubled our donor database. DonorPerfect is a MUST for people who need to know their donors better and maximize their fundraising."
Jack Kalla
AISH

"Thanks to DonorPerfect, we have now reached and exceeded our capital campaign goal of $3.8 million. In fact, we're at $4.5 million!"
Hector Perez
Johnston Memorial Hospital Foundation

"DonorPerfect has helped us to develop a much needed personal relationship with our donors. We're seeing regular supporters giving special gifts and many new monthly supporters to The Sound of Life as a result. We're able to manage our donor data base in a way we never could and thus serve our donors more personally because of DonorPerfect. And your support team is a treasure! Thanks for bringing us into the 21st Century!"
Tom Michaels Zahradnik
The Sound of Life Radio Network

"We're a small nonprofit and we really appreciate how simple it is to use DonorPerfect. We know DonorPerfect can be configured for some of the most sophisticated fundraisers. But in our case, your flexibility allowed us to keep things scaled to the level of simplicity we need. Thanks for making things so easy!"
Bill Kirken
St. Paul Homes

"DonorPerfect is a little gem that fits our nonprofit perfectly. I used Raiser's Edge elsewhere in the past, and I think for us DonorPerfect is a great product for much less."
Jill Royce
LifeWorks of Sonoma County

"I cannot tell you enough times just how pleased I am with DonorPerfect. It is the greatest! Thanks for making my job easier!"
Andrea Hall Levy
Riverdale Mental Health Association

"We are constantly evaluating our data to figure out better ways to raise money and we really appreciate the power and flexibility of DonorPerfect's Report Writer. We are very satisfied with the system and we think the support staff is the best!"
Brenda O'Conner
Museum of the Rockies

"I am very happy with DonorPerfect. In addition, I've found that the new modules and updates are great, and show that DonorPerfect is constantly trying to improve the software and keep us up to date.
So would I recommend DonorPerfect? Yes, because of all of the above and the price! "
Nanette E. Dion
Salesian Sisters of St. John Bosco

"The Fundraising Effectiveness Project has made great progress since DonorPerfect became charter members of the AFP Donor Software Workgroup back in 2006. Today, we find there is increasing interest in using data generated from the FEP project. Nonprofits are using the data to help make decisions about allocation of resources for fundraising and ways to improve donor retention."
Read More
Paulette V. Maehara & Elizabeth T. Boris
President & CEO, AFP | The Urban Institute


"Using DonorPerfect allows me to use my time more strategically, which is already paying big dividends for the Institute. And my board loves the financial reports I can pull. I turn them into PDF files and email them - all done within DonorPerfect."
Michelle Hinson
Institute for Public Relations


"I love DonorPerfect! I'd rate it a 10 - easy to learn, easy to customize, powerful enough to do what I need without loading up on a bunch of features I'll never use."
Molly Sasse
Chattanooga Symphony and Opera


"DonorPerfect captures all of the data that is crucial in fundraising. It's a great help in targeting donors, knowing your donors and helping to analyze giving to implement improved strategies"
Christine Lewis
United Way of the DuPage Area


"We are really pleased with the variety of reports available and how easy the system is to use. And the support department is fantastic!"
Ms. Jean Halter
Interfaith Ministries


"Our campus organizations throughout the world use DonorPerfect. Sites both large or small have found the system fast, flexible and truly easy to use."
Melissa Miller
Hillel International


"DonorPerfect was very affordable for our organization and it came highly recommended by another local nonprofit. It has the elbow grease to do what we need done. We worked with a homemade database that was not user-friendly, and too many important donor-related matters were falling through the cracks as a result. DonorPerfect is robust enough to capture and enable the professional touch we need with our donors."
Tracy Alexis
St. Martin's Hospitality Center


"Acknowledgments and income tax receipts are no problem — in fact, all receipting is easy because they're treated like another report. You can just go in and change it to what you need. Add new fields — whatever you want — it's so flexible"
Kevin Lynch
FEED NOVA SCOTIA


"I wanted to express my gratitude for all the years we've reaped the benefits of DonorPerfect. The 'personal' touch of that program touched many donors' lives and solidified our donor base beyond words! I was privileged to see the benefits, and the 'Army' will be privileged to 'reap' those benefits for years to come."
Ronald L. Lugiano, Major
Former Development Secretary
Salvation Army Empire State Division


"I really appreciate the service we have received thus far. From the sales team to the implementation to the mapping specialist – everyone has been very attentive and helped make the transition as simple and painless as possible!"
Myrna Pappas
Venice Community Housing


"Since switching to DonorPerfect, I've been able to do solid and accurate reporting. I've also found the training to be excellent as well as the support. The friendliness of the support staff is excellent."
Angie Warren
Coachella Valley Rescue Mission

Click Here for Independant Reviews and Ratings of DonorPerfect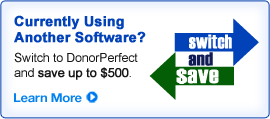 DonorPerfect has been top-rated by multiple independant organization and nonprofits. Check out our reviews and ratings.