Converting to DonorPerfect Online
Data Transfer Options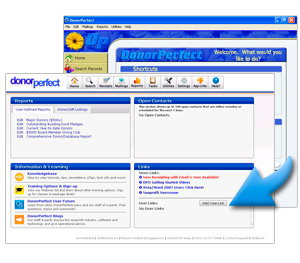 1. Standard Conversion
Price: FREE (normally $495)
Includes conversion of the data "as is" from DonorPerfect Installed with no screen layout design. The fields will be arranged in a vertical,
2 column approach.
2. Enhanced Conversion
Price: $495 (normally $1195)
Mapping of client's data into the appropriate fields
Recommendations to delete or rename fields
Moving fields
Deleting fields
Renaming fields
Adding new fields
Special Conversion Offer
If you are interested in converting, please call your client account manager at 800-848-3279 for a special conversion offer available for a limited time. They can provide you more details, answer any questions, and set up a trial system so you can see if
DonorPerfect Online is right for you.
Meet 5 of Your New Best Friends in DPO
1. SmartActions
allows you to set up actions that your DPO system performs automatically when the specified conditions are encountered. For example, if a gift of $500 or more is entered into DonorPerfect (the trigger), an email notification is sent to the Development Director and a call is set up in the DPO Contact Manager (the actions).
Learn more: www.donorperfect.com/smartactions
2. Hosted File Management Service
cost effectively manages documents, photos, and other important constituent related materials, without creating an extra IT burden. They are available to everyone who needs them from any location 24/7. Files can be automatically linked to a donor, gift, pledge or transactional record and stored on our secure servers.
Learn more: www.donorperfect.com/hostedfilestorage
3. Constant Contact

integrates with DPO to provide robust group email capabilities. This "best of breed" approach enables you to compose, send, and track email campaigns using Constant Contact's industry leading tools, and provides seamless list management and synchronization of campaign results with your DPO system.
Learn more: www.donorperfect.com/ConstantContactIntegration
4. DonorPerfect Mobile

combines the database power of DonorPerfect Online with the convenience of a mobile app to form the perfect traveling companion for DonorPerfect users. A powerful suite of features lets you access your DonorPerfect information at home or on the road, 24 hours a day.
Learn more: www.donorperfect.com/mobile
5. WebLink Forms
makes it simple to create and manage online forms that integrate with DonorPerfect. You can easily generate forms using our "do-it-yourself" form templates. Or ask us to provide a quote to create or customize your form for you. If your form collects donations or fees, payments are deposited directly to your bank account.
Learn more: www.donorperfect.com/weblink
DonorPerfect Online Clients Speak for Themselves

"With DonorPerfect Online, I liked that I could have unlimited attachments to a donor's record. And Smart Actions is like having another staff person by being able to automate processes. It was the combination of functionality and value why I selected DonorPerfect Online."
– Henry Taylor, Chief Development Officer
Level Playing Field Institute
The service is phenomenal. The levels of access, combined with the ease of use make it so that even our most computer illiterate volunteers are able to use it effectively. The custom report writer allows me to call up information at a moment's notice and cross reference donors and gifts by every imaginable statistic. By using this feature, we are able to use very target specific approaches with each of donors, and in this economy, that's a huge plus.
– Susan Hanna, Assistant Director
Community School of the Arts