Determined pastor raises $90,000 for homelessness on cross-country motorcycle ride
Determined Pastor Raises $90,000 for Homelessness on Cross-Country Motorcycle Ride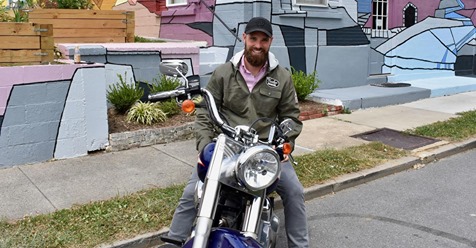 Brandan Thomas, Director of the Winchester Rescue Mission and Pastor at Canvas Church, took to the road on a motorcycle ride across the country to raise awareness for homelessness. He zig-zagged his way through 16 cities, stopping and volunteering at a curated list of rescue missions. He selected his stops based on the rescue missions' need and the opportunity to learn from their exceptional programs.
His initial plan was to raise $10,000 for his rescue mission's shelter and services by sharing the journey with donors through Facebook Live, but his ride exceeded expectations when a single post led to a grand total of $90,000.
Brandan's success isn't a fluke. He made a series of smart moves that led to his epic fundraiser. Here are 7 ways you can get more eyes on your campaign and boost your bottom line, inspired by Brandan's Rescue Ride.
7 Nonprofit Fundraising Lessons from the #RescueRide
Share your happenings on social media
Brandan cleverly branded his cross-country quest with a memorable hashtag by dubbing it the "#RescueRide."
After announcing his plan on social media, he quickly gained the attention of Dr. Drew from the Dr. Drew Show and was interviewed live on air in a matter of days. Word spread rapidly, reaching a national audience all because of just one Facebook friend who happened to have connections to Dr. Drew and wanted to help.
While not all fundraisers may get this lucky, hashtags are an easy way for supporters to share about your cause and effortlessly reach a mass amount of people.
Build friendships with your local media (and don't forget to thank them)
Early on in his mission, Brandan had established a relationship with the local newspaper and radio stations by requesting coverage for the Winchester Rescue Mission's fundraising events. Among Brandan's Facebook friends are local news reporters. His rapport encourages them to follow his mission closely and write about it often. Brandan tells us,
"One of the most important things is building friendships with your local media. When they do a story about us, I usually send them an email, just thanking them for it. A lot of times we just kind of think, 'That's their job.' But because I've been consistent in thanking them, they grew to appreciate me and want to do more stories about us."
Never underestimate the power of in-kind donations and volunteers
The news of the Rescue Ride brought in donors and volunteers, far and wide. In addition to the dollars raised, a Harley Davidson was donated to Brandan and all his gas expenses were covered. In just two months, what was supposed to be three riders on this journey evolved into fifteen. The group included motorcycle enthusiasts, a film crew, and a motorcycle technician.
Be authentic
Brandan's passion for helping the homeless is personal. His father, whose grave Brandan visited for the first time on this journey, lived with schizophrenia and bipolar disorder. Brandan explains that an overarching mental health crisis is what is at the root of homelessness.
"For us, the ride was very crucial in highlighting that the folks who are homeless are not choosing to be. That is the option that they're left with because of their mental health condition – because there's nowhere for them to go."
Brandan's Rescue Ride generated committed, lifelong volunteers out of those who became involved, people who were otherwise unaware of the mental health and homelessness crisis in the United States.
Share what your mission means to you with the right tools
The Winchester Rescue Mission adopted DonorPerfect as their fundraising CRM just before the Rescue Ride because Brandan needed to establish a method of communicating his passion and retaining donors. Brandan shares,
"I recognize that people don't have the passion for the same thing I have a passion for, unless I [use] the correct tools like DonorPerfect, or ViewSpark, or Facebook. I have to [use] tools that allow me to communicate with people, so they can see our passion for what we're doing [and] have the opportunity to be passionate about it as well.

DonorPerfect allows us to stay more connected with our donors in a way that we've previously not been able to do. Somebody who gave one time for a one-off event, we can stay in contact with and [convert] their one-time donation into consistent giving because now we have an easier platform to get them connected to recurring donations."
Make donors feel included in your journey
With the money raised from the Rescue Ride, Brandan plans to hire a mental health professional to work at the shelter so there will be someone onsite to help in a crisis immediately, rather than rely on community services, which often cannot respond in time.
Brandan's staff will proudly share this information as part of their goal of communicating with donors as their plan unfolds. Brandan shares,
"We try really hard to help our donors feel like they are part of what we're doing and know that what they're doing is making a difference. We try to be pretty consistent about reaching out to them with updates on what we're accomplishing because of what they've given. If you're just constantly saying, 'Here's our need and we can't do this without you,' people don't want to give to that. People want to give to something that's exciting, something that's working, something that's happening. I think you have to find that delicate balance between, 'here's the need that we have,' but also 'here's the opportunity [you've created.]'"
Keep it interesting
Last year, Brandan brought attention to the important work of the Winchester Rescue Mission by sitting on a public bench for 24 hours. He's already accepted a challenge to run 50 miles for his mission next year. Brandan doesn't plan to stop advocating for our homeless population this way, as it seems to be working.
Stay updated on Brandan's progress
The Rescue Ride's cross-country trek alone has caught the attention of film producers and may become a documentary that will debut on popular streaming services. For now, you can check out some raw footage on the Winchester Rescue Mission Facebook page. We look forward to hearing more about how this develops and are cheering on Brandan in his creative ways to fundraise.