Events Management Made Easy
Tech tools can help you tackle biggest aspects of your event by saving you time, keeping you organized, and giving your guests easier ways to engage.
This guide serves as a go-to source for equipping you with the tools and technology that – combined with your hard work, creativity, and talents – will result in a fantastic fundraising event.
Manage all of your fundraising, event, volunteer, and auction tools from one place.
Events require advance planning, meticulous organization, and an A-team of dedicated nonprofit staff members and volunteers who are all working toward the same goals. That's why a donor CRM is more crucial to your event's success than anything else.
Your donor CRM will serve as the destination for everything related to your event, including donor engagement and development once it's over.
DonorPerfect works as the central hub of your fundraising efforts by:
Integrating/interfacing with all of your fundraising, event, and auction tools.
Housing all your data (donors, event guests, donations, & more) in one place.
Providing database access at the office and on-site via mobile at events 24/7.
Keeping every member of your team up to date.
Managing table assignments, RSVPs, menu choices, and more.
Automatically collecting and recording both registrations and donations.
Tapping into guests' giving history through standard and custom reporting.
Charting your growth path through goal-based tracks.
"I would definitely recommend that organizations use DonorPerfect. Boards should think about how they are investing in technology and understand that their staff needs these tools to be able to make campaigns that are effective."
Barbara Cohen
Executive Director at Animal Cancer Foundation
Pull it all together effortlessly.


Complete a short form to get a tour of DonorPerfect.
Make registration and collecting donations easy.
The main goal of your fundraising event is to fill the room and raise money, so why not let guests give the quickest and most convenient way possible to register and donate before, during, and after your event?
DonorPerfect Online Forms are designed to:
Collect guest, gift, and donor information and automatically organize it in your DonorPerfect CRM.
Let guests register online in seconds. All guest information including ticket purchases and seating is instantly reflected in DonorPerfect.
Giving at events is a breeze. These mobile responsive forms allow guests to give quickly from their phones or you can collect gifts on-site in seconds using DPMobile Swipe. All you need to do is attach the swipe device to your phone and "swipe" to accept credit card payments.
Allow you to customize your forms to reflect your organization's logo, colors, and fields. (Branded forms collect 6x more gifts on average!)
Support all of your initiatives. Make an unlimited number of forms, including forms for event registration, table sponsorships, generic donations, monthly gifts, and specific campaigns as you hold fundraisers throughout the year.
Empower donors to cover the small fee associated with processing their gift through the Donors Cover Costs feature. That way, your event's donation processing fees could wind up being free!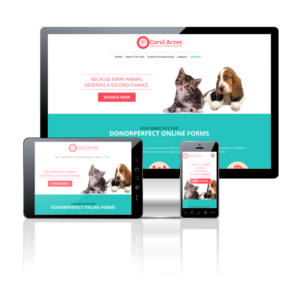 Create your branded online donation forms today!


Learn More About DonorPerfect and Online Forms.
Build a dazzling website.
The percentage of your constituents and donors who visit your organization's website before giving is growing every year. When was the last time you evaluated your website?
A modern website is a wonderful (and increasingly necessary) tool you can leverage to spotlight your mission, advertise your events, and raise more money for your cause.
When you subscribe to GiveCloud, there's no need for a web developer or designer. You simply choose a template and use the DIY website builder to create a beautiful online destination where you can:
Easily create and edit pages on your site.
Sell event tickets and merchandise online.
Collect donations through forms that integrate with DonorPerfect.
Show and tell all the amazing things you're doing to further your cause.
Launch your amazing nonprofit website.


Learn More About DonorPerfect and GiveCloud.
Spread the word with eye-catching emails.
"Promotion is key to any successful event. You can have a great idea and secure solid partnerships, but if no one shows up, your event will fall flat. If you don't dedicate time and effort to the promotion piece of your event, people won't know there's something to show up for."
Robert Perry
Venue Owner
The most successful nonprofits combine off-line event marketing efforts with online marketing initiatives.
Not an online marketing genius? No problem. Constant Contact is designed to turn nonprofit email novices into expert email marketers. Through easy-to-use drag and drop templates and simple analytics dashboards, you can:
Advertise your event and keep guests up to date with professional emails.
Link your event registration and ticket forms into your emails.
All email and registration activity is integrated with DonorPerfect.
Pinpoint what's working and what's not by tracking opens, clicks, opt-outs, and more.
Keep in touch with guests after the event with emails that motivate continued support.
Make your next fundraiser a Friday-night must with engaging emails you can create, send, and monitor with ease.
Become an email expert!


Learn More About DonorPerfect and Constant Contact.
Engage and entertain guests via text.
An astounding 95% of text messages are read within 3 minutes, so why not use the power and popularity of this communication tool to update, engage, and entertain your guests?
DP Text is a text message marketing tool that you can use in all sorts of creative ways before, during and after your event.
With DP Text, you can:
Recruit volunteers and send event invites and updates.
Hold event contests and scavenger hunts.
Gamify giving at your events with a goal meter.
Deliver details and directions on-demand via text widgets.
Share photos with guests after the event.
View in-depth reports on all text activity.
From the gala organizer who raised an additional $800 in a single minute to the development professional who garnered an 80% opt-in, nonprofits have raised more money with DP Text. Join them for your next event!
Harness the power of texting.


Learn More About DonorPerfect and DPText.
Host a lively and lucrative auction.
Exceed your event's fundraising goal by putting on an auction that's packed with energy, fun, and of course, highly coveted items.
ReadySetAuction takes the hassle out of planning live, silent, and online auctions by streamlining and simplifying the all the moving parts you need to align to make it happen.
With ReadySetAuction, you can:
Showcase your items and set each one to open and close on its own schedule starting 45 days before and ending 45 days after your event.
Empower bidders to use their smartphones, tablets, and bidding stations to browse your catalog, place bids, purchase items, donate, and check out.
Capture guests' payment info prior to the event for easy check-out and billing at the end of the auction, and allow them to check themselves out from their phones!
Have a ReadySetAuction expert at your event to help you with answering questions setting up the check-in process, and preparing guests for checkout.
"Using ReadySetAuction allowed us to go online with mobile bidding, so our auction opens a week before our fundraising event. We went from raising about $20,000 to $25,000 in our silent auction to raising $65,000 to $70,000 when we purchased ReadySetAuction and launched mobile bidding."
Beth Lennon
Associate Director of Development
at The Calverton School
Raise more and engage better with auctions.


Learn More About DonorPerfect and ReadySetAuction.
Make giving a breeze with mobile swipe donations.
Any face to face interaction can turn into a moment of generosity for your cause. Fundraising events like auctions, races, your annual gala, or even a personal meeting with a donor can be the perfect time for a supporter to make a financial contribution.
Make it easy and fast for guests to make a donation with a mobile card reader powered by DonorPerfect Mobile.
Designed with event fundraisers in mind, DonorPerfect Mobile allows you to:
Save time. Your mobile card reader automatically updates the donor records in your DonorPerfect database.
Set up a monthly recurring gift with the press of a button.
Easily create a new contact record directly from your phone or tablet.
Collect gifts quickly and have more time to engage your guests with DonorPerfect Mobile.
Make giving on the go easy.


Learn More About DonorPerfect and DP Mobile Swipe.
Not Sure Which Tools Are Right For You?
Let the DonorPerfect team help you choose the tech tools that will best bolster your next event. Complete a short form and weíll be in touch.
How To Plan a Nonprofit Fundraising Event (On a Budget)
From assembling your events dream team to saving big on a celebration space, this e-book is packed with expert advice, tried-and-true best practices, and smart tech recommendations to help you throw a hit fundraiser while staying within your budget.