Monthly Giving Starter Kit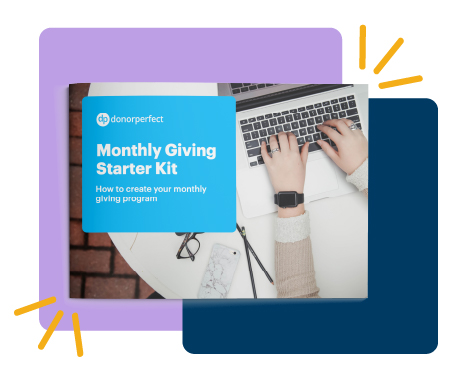 The donors in your database are an abundance of funds waiting to be utilized. With the right strategy and tools, you can turn them into dedicated monthly donors.
We outline the best practices, communication techniques, and segmentation strategies to help your organization start a worthwhile recurring donor program.
You'll learn the best strategies to…
Convince your board to start a recurring donor program
Administrate your recurring donor program efficiently
Treat recurring donors right
Ask your donors to give monthly in the proper manner
In addition, we'll show you how DonorPerfect's unique tools tools will allow you to…
Calculate the impact of converting 3% to 15% of your donors
Organize your processes and recognition to maximize impact
Process monthly donations using DonorPerfect
Organize your monthly donation processing options