3 Key Elements to Take Your Nonprofit from Surviving to Thriving
By Wayne Elsey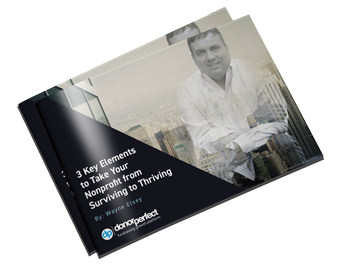 This inspirational e-book will explore the three Nonprofit Success DNA Components:
Leadership
Vision
Comfort with Money
And how leadership begins with YOU!
Learn from the experience and expertise of Wayne Elsey, philanthropist, business leader, and member of the Forbes Business Development Council. You will also hear from DonorPerfect users who are actively practicing the principles of good leadership, vision, and effective fundraising.