Our Most Useful Advanced Forms Features
( 4 minute read )
How to Customize Your Form's Look and Feel
Your online forms are fully customizable and ready to be branded to match your nonprofit's website and other materials. With DP Online Forms, you can: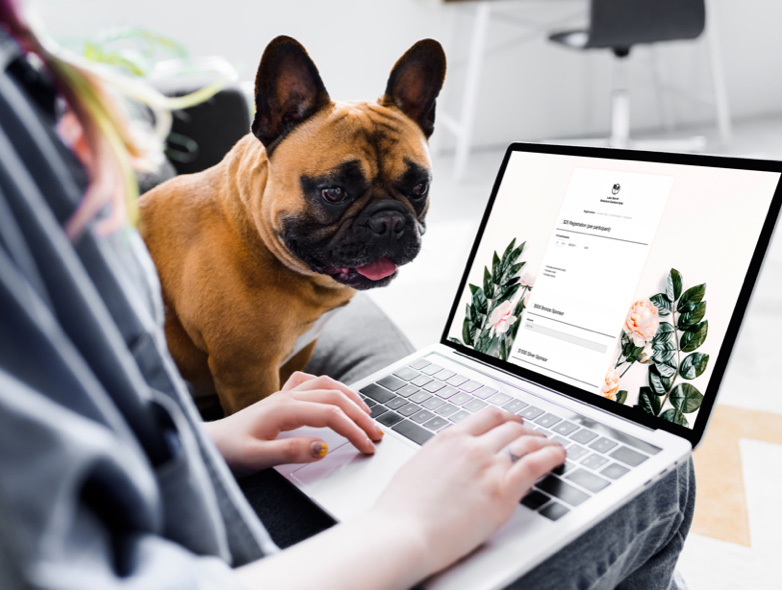 Keep Form Images Organized in One Reliable Place
Images are a great way to convey your nonprofit's cause in a powerful and effective way. Keep all your form images in one reliable place that is readily accessible when creating your forms. The Image Gallery makes it easy to use JPEG, GIF, PNG, and BMP images with your forms and confirmation emails by providing access to them via the Online Forms Server. Supporters will always see the image when they read the confirmation email or access your form. When images are no longer needed, just delete them off the server.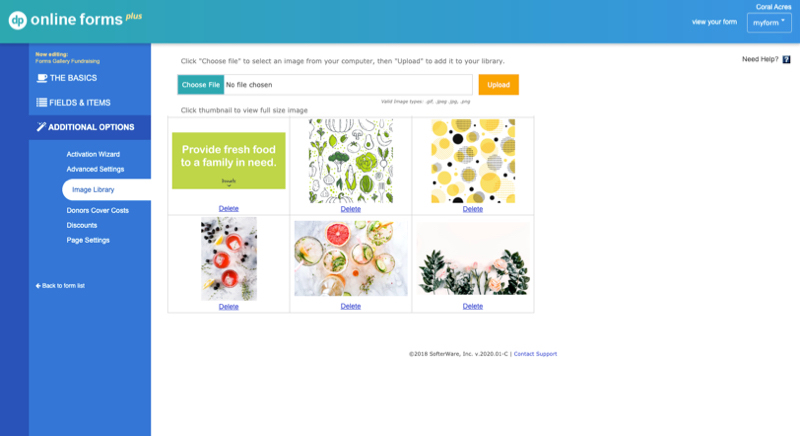 TIP: The width of an online form is 700 pixels. The images you upload should be no wider than that.
How to Test Your Online Donation Form
Have you tried to make a donation using your form? Experience what your donors experience by testing all pages of your online donation form and the email confirmation before you send it out. Simply set the form to Test Mode to enter sample transactions. This lets you fill out your form to step through the entire process, from end to end, including viewing the receipt page and email. While in test mode, your form won't process any actual transactions. Instead, your sample transactions will be sent to a secure test account and not your regular processing gateway.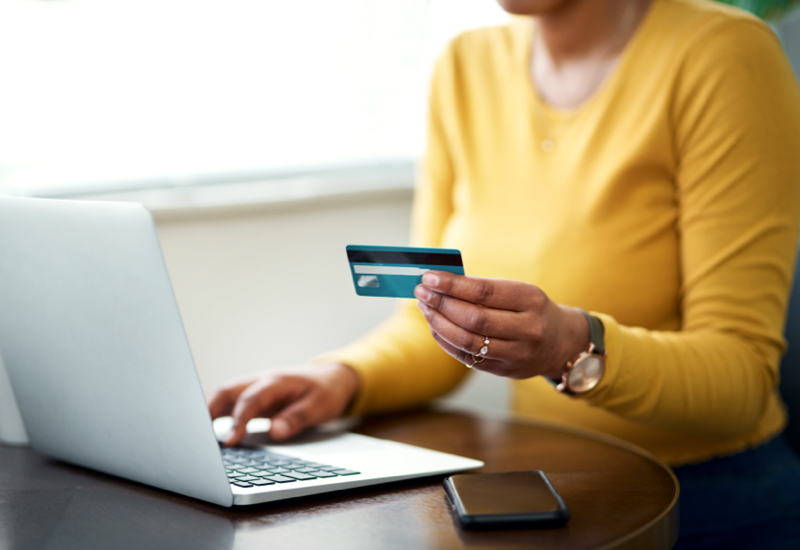 Test Credit Card Numbers
Below is a list of test credit card numbers that you can use to test your form. Any CCV and expiration date from the future will work.


Discover
6011 1111 1111 1111

Master Card
5555 5555 5555 4444

American Express
3782 82246 31005
How to Automate Ticket & Merchandise Limits
Do you offer tickets, sponsorships, or additional promotional merchandise, such as magnets or T-shirts as part of your fundraising strategy? Do you want to limit the amount of items sold or indicate they have sold out? This setting is managed in Item Availability under Fields & Items. Locate the field you want to update and set the amount in the Qty Avail column. Don't forget to add a message in the Text to Display field, indicating that the item is sold out if you've set the quantity to 0.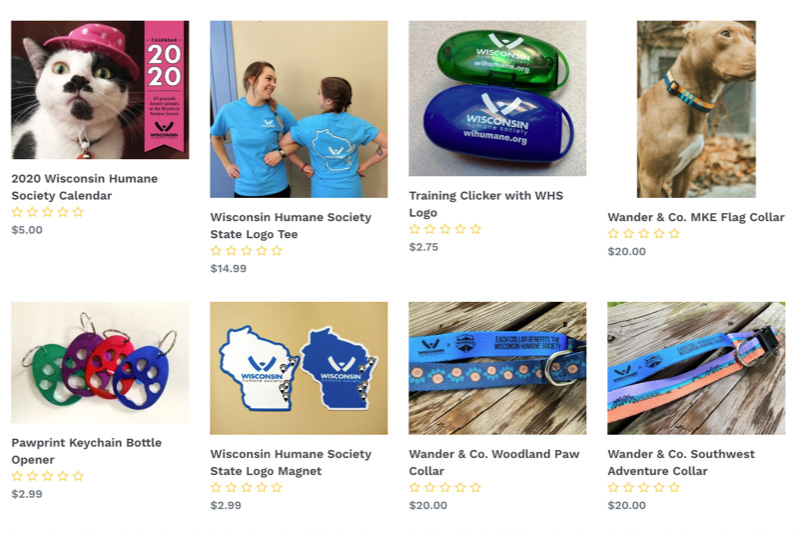 Two Quick Methods to Add Text on Your Form
Help donors connect with your mission or clarify specific form items by adding additional text to your online form. You can add text, like a contact address or social media links to the header or footer of your form. You can also create a Label field that contains text and format your new label field with HTML.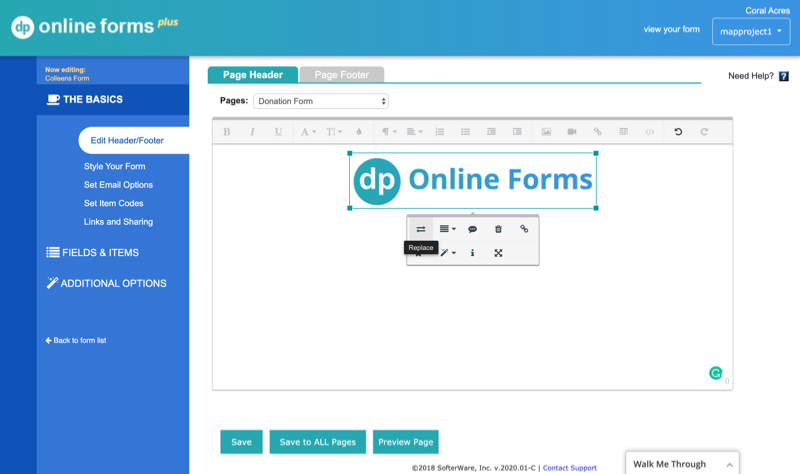 Changing the Order of Drop Down Field Choices
Do you need to change the order of individual drop choices on your form? Click Fields under Fields & Items and locate the field you want to update (e.g., Amount). Click the Edit icon next to the field. To reorder items, click the up and down arrows on the right side of the Field Options section.

Adding American Express to Expand Payment Options
Make it easy for supporters to donate by offering American Express as a payment method. Visit Fields > Fields & Items to add American Express as a Card Type field in the Credit Card Information section of your form.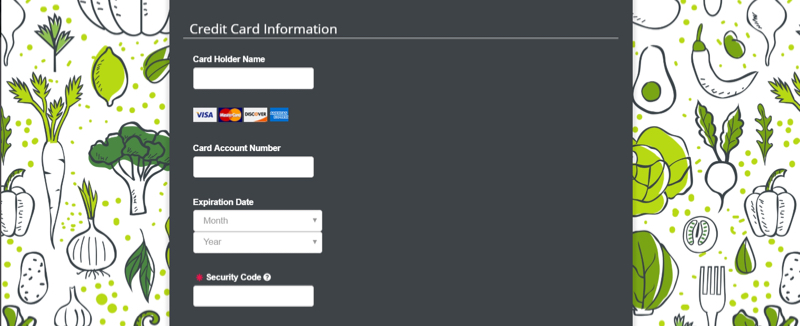 Renaming a Form's Page and Button Prompts
The Page Maintenance tab of the Page Settings screen (found in Additional Options) allows you to rename the pages in an online form and edit the introductory text that appears on some pages. The Button Maintenance tab on that same screen lets you update the text and other properties on the navigational buttons that appear on your form, such as Next, Back, or Submit.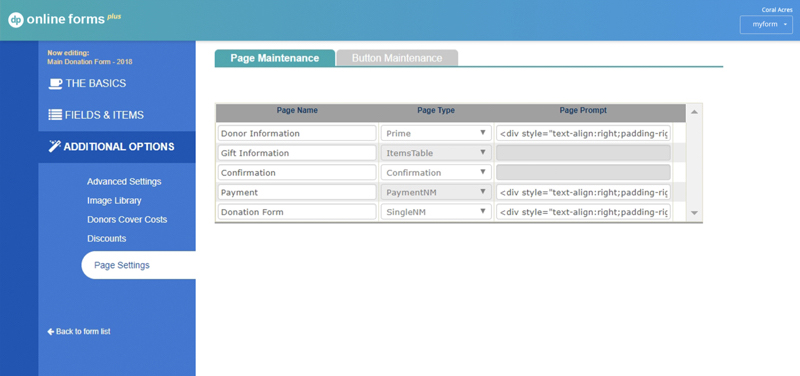 Next Step: Video Library
Explore our video library for step-by-step instructions, best practices and fundraising ideas.