Empower Supporters to be Fundraisers!
Peer-to-Peer Online Social Network Fundraising!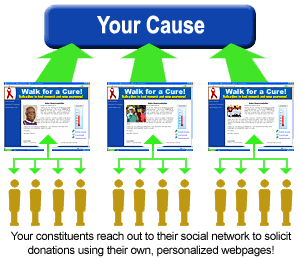 We had a huge increase in revenue this past year in a tough economy and I definitely believe this would not have happened without DonorPages! Since the implementation of DonorPerfect and DonorPages, we've grown our annual revenues 700%! We definitely figured it out - our supporters are our best fundraisers!

Read more
Ginny Comstock Tocci
Director of Development and Administration
The Brain Anuerysm Foundation
DonorPages makes it easy for you to set up web sites, branded with your graphics and messaging, that allow donors and other supporters to create personalized fundraising pages. You can have multiple DonorPages sites, for events and ongoing campaigns that empower your constituents to ask for donations on your behalf!
Prospects are more likely to donate when asked by friends and associates!
Donors, volunteers and event participants reach out to family, co-workers and more via email, links on Facebook and Twitter, or simply passing on their personal fundraising web address. Statistics show that personal appeals are far more likely to be successful, due to trust in, and affinity for, your supporter.

Perfect for:
Sponsor Events
(Walk-a-thons, Dance-a-thons,
Bowl-a-thons, Fun Runs, etc.)
Memorials & Tributes
Capital Campaigns
Supporter "Self-Managed" Fundraising
(Individual Bike Rides, Fundraising Parties,
Bake Sales, etc.)

DonorPages™ empowers your supporters to raise money and awareness for your mission! Described as "painless fundraising" by our clients, DonorPages makes it easy for supporters to create personal web pages and ask for online credit card donations.
Brief Overview: Watch the video at right for a brief overview. For more in-depth videos about what you can do with DonorPages and running a campaign, click here.
To learn how DonorPerfect and DonorPages can help meet your fundraising goals,
call 800-220-8111 or click here for a FREE consultation.