Two of the Largest Nonprofit Technology Leaders Partner to Provide Integrated Fundraising Solution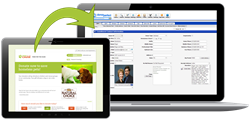 Network for Good, with its leading online fundraising product for nonprofits, DonateNow, and SofterWare, developer of the leading donor management product, DonorPerfect, announced that they have integrated their top-rated products to provide nonprofits a comprehensive and integrated online donation and donor management solution. Nonprofits need software products that work seamlessly together and both Network for Good and SofterWare recognize that in addition to their own products, integrating with other leading products is a great way to help nonprofits achieve their goals.
Bill Strathmann, CEO for Network for Good, said, "This partnership gives DonateNow clients a new way to maximize online donations. We're making it easier for nonprofits to combine online giving with proven fundraising techniques to improve the donor experience, drive greater giving, and build stronger relationships. Once in DonorPerfect, nonprofits can track the success of all their campaigns, uncover hidden trends, cultivate major donors, improve donor retention, and much more. This combination is the ideal, best-of-breed online fundraising and donor management solution - it's going to help nonprofits fulfill their missions."
Click here to read full story