July 22, 2016 | Categories DonorPerfect Fundraising Software, DonorPerfect Update, Nonprofit Technology, SofterWare Products
Release Announcement: SideBar Gets a Facelift

A new version of DonorPerfect will be released this weekend that paves the way for some exciting future changes coming to DonorPerfect's Reports. For this release we've updated the SideBar and made some quick improvements to our SmartGive feature. While the changes may seem relatively small at first, they set the stage for greater enhancements down the line.
SideBar Gets a Facelift
Coming soon, maybe even as early as Fall 2016, DonorPerfect's Reporting features will receive an overhaul. This will include a brand new Report Center, easy to use Report Builder and the ability to schedule reports to run and be emailed to you, your key employees, board members, and any other stakeholder- you just need their email address!  This release prepares for that by updating the Sidebar to support features like report scheduling and saving. We've also given the Sidebar a much needed facelift to match the styling in the upcoming Report Center and Easy Report Builder. (Want a sneak peak and even some training on all of the new reporting functionality? Come join hundreds of other nonprofits at this year's DonorPerfect Community Network Conference.)
SideBar Updates
Aside from the new modern look and feel (no more boring gray!), a few other items have been updated: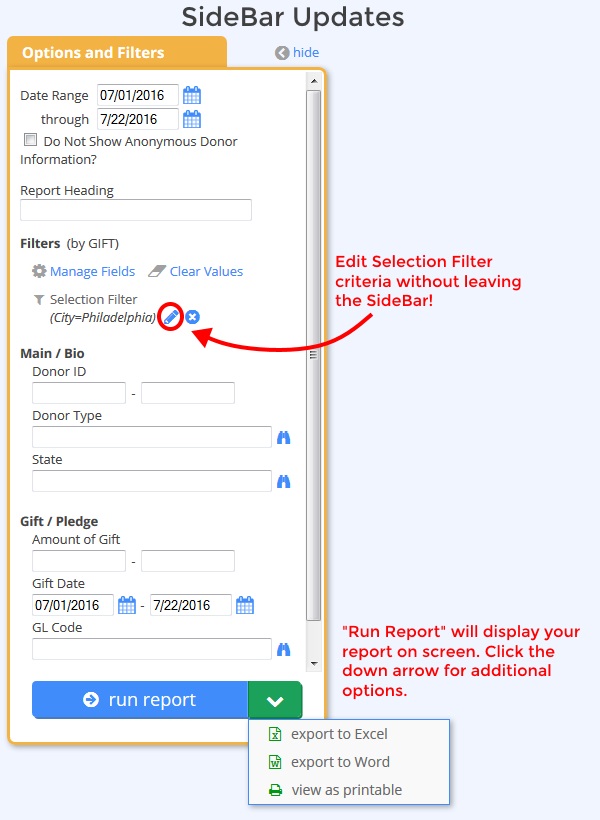 You can now edit a Selection Filter right from the Sidebar. Simply click the Edit icon to be taken to the Selection Filter's Criteria.
Since most of you view the report on screen first, Run Report (formerly the "Screen" button) is now the default, replacing the Output Options divider found in the previous SideBar. Clicking the down arrow to the right of Run Report allows you to save and print the report as an Excel, MS Word or PDF file.
To see all the changes and learn more about using the Sidebar in your reports, visit
Sidebar Reporting in DonorPerfect
.
SmartGive Your Way to More Donations
SmartGive is a tool that allows your emails or printed letters to include a link to a WebLink online form for each donor. When the donor accesses the form link, it is pre-filled with their name, address, email, and phone number. SmartGive links streamline the donation process, making it more likely that the donor will complete the donation form. For this release, we've improved how to generate your SmartGive links, simplifying the process and making it easier to understand. You can learn more in this quick two minute video:
Release Notes
SideBar and SmartGive updates aren't the only changes in this release.  Read about additional enhancements and fixes for this release in the DonorPerfect 2016 Release Notes in our DonorPerfect Community Knowledgebase.