Sophisticated and Flexible Tools to Help You Report and Evaluate Your Results.
With DonorPerfect's powerful fundraising reporting and analysis tools, nonprofits can:
Analyze results
Uncover hidden trends
Refine solicitation activities
Develop strategies to improve fundraising efforts
Types of Reports
Campaign Effectiveness reports help you analyze your fundraising efforts by solicitation method and/or campaign.
---
Donation Summaries and Analyses that break down your donations by giving levels, fund designation or other criteria. Reports like these help you understand trends, improve campaigns and enable you to make better decisions for future fundraising efforts.

---
Grant Tracking provides detailed reports to track grant requests, funding status and critical dates, so that no grants 'fall through the cracks' and every grant request has the best chance of being funded.
---
Constituent Reporting on individual donors and their giving histories, such as a Five Year Giving report and a LYBUNT (Last Year But Unfortunately Not This Year) report, is literally a GOLD MINE of information to help you cultivate donations!
Report
Drilldown
Quickly drill-down to view greater detail.

Many DonorPerfect reports provide summaries to give you a high level view of campaigns, financial information and other goals. You can then use report hyperlinks to quickly drill-down into the data to view greater detail. For example, view all the gifts received in a month, then drill-down into a particular solicitation, and then to a specific donor and gift. All of these reporting levels can be exported and shared with others.
Export Capabilities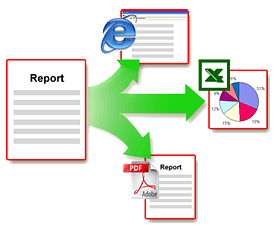 Export to All Popular Formats.
It's simple to share and send DonorPerfect reports. Most can be easily exported to Word, a spreadsheet format such as Excel, a PDF, or an HTML file for emailing to your board or publishing to your website.
Custom Report Writer
Easily create reports to match your needs..
The Custom Report Writer uses a step-by-step wizard that enables you to design your own professional reports, which can be saved, modified and run again. Choose any field, including user-created fields, then sort, select, subtotal and group on any of those fields, and generate your customized report with whatever headings and totals you want. Customize your reports to EXACTLY what you need!
Sidebar Reporting
Sidebar Reporting...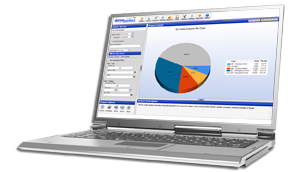 What if you could take something you do at work every day, and produce better results in 1/5th the time? That's what SideBar Reporting can do for you – it makes building selection filters easy and efficient! Similar to travel websites, it enables you to change parameters on the fly to quickly view new information. You can enter filter criteria, view the report, and refresh the report with different criteria without ever leaving the report screen! Plus, you can graph some of this data right there on the screen, instead of exporting to Excel, to gain a better understanding and make better decisions.