Receipting
SAY THANKS FASTER.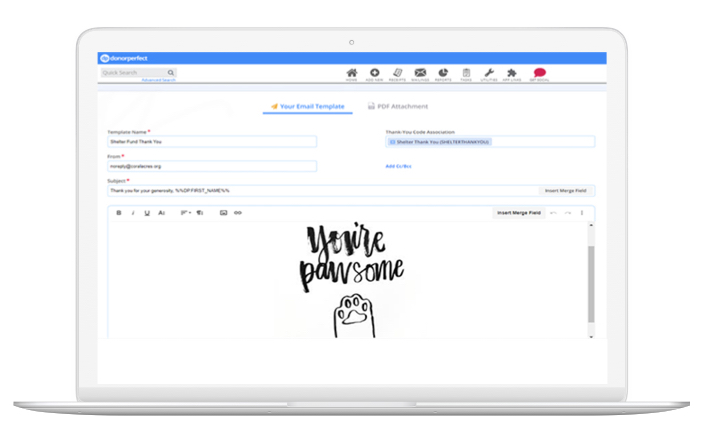 Click Image to Enlarge
Donors are 4x more likely to give to your mission again when you thank them within 48 hours. That's why we prompt you with notifications and make it easy to personalize and send your letters and emails en masse so there's no delay in relaying your gratitude to your donors in a special way.
DonorPerfect helps you stay on top of receipting all year long, avoiding clerical errors and making tax time hassle-free.
Receipting Features
Get the right message to the right person.
Notify donors when a gift was made in their honor.
Notify survivors when a gift is made in memory of their loved one.
Send donors reminders for upcoming pledge payments.
Export an Excel file to provide to your mailhouse.
Send out your consolidated, year-end receipt letters.
Simplify your receipting process.
Populate letters and emails with donor and gift data.
Print or export all of your completed letters at once.
Store all your email and letter templates for access anywhere.
Receipt numbers are generated for you.
Create branded email and PDF templates with easy-to-use builder.
Respect donor preferences automatically.
Send receipt as an email, letter, or both.
Acknowledge gifts individually or consolidated.
Use the correct address, whether seasonal or alternate.
Keep track of your receipting.
Organize your receipts into batches with one click.
Run reports on receipt batches for more detailed views.
Download batches as accounting .iif files.
Records auto-update with receipt information.
I love the instant merge option for producing thank you letters and receipting. Most software I have used (3 of them so far) do not have this feature. It saves me so much time!"
Learn More about Receipting