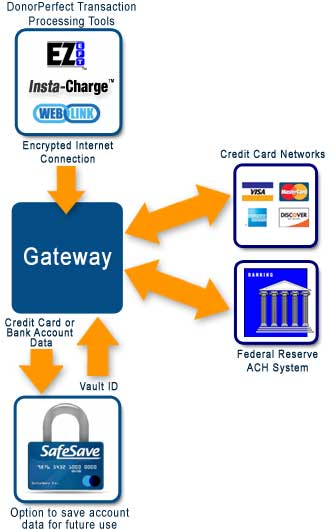 SofterWare's transaction processing gateway improves our industry leading solutions for donor electronic payment processing while eliminating virtually all PCI (Payment Card Industry Data Security Standards) headaches.
Benefits include:
SafeSave™ – Secure hosted storage of credit card and bank account data — eliminating PCI compliance concerns associated with storing cardholder data within the nonprofit's computers.
All data and processing is encrypted and transmitted via a secure Internet connection. No need for credit card terminals, modems and dedicated phone lines.
All credit card processing can now be facilitated via a single merchant account.
Offers low-cost direct debit (ACH) for online donations or one-time Insta-Charge payments — again via a single integrated ACH account.
Real-time validation and authorization of credit card payments, including preauthorized batches, improve processing success rates.
New and improved online reporting tools for review of processing history and managing returned items.


Learn more about PCI Compliance and why it's important to your nonprofit organization.