Regional Workshops
DonorPerfect workshops are scheduled around the country and throughout the year for users of DonorPerfect. This one-day workshop provides you with the opportunity to learn about the features that have the most impact on you as development staff, as well as the opportunity to interact with other users in your area.
Applying DonorPerfect Concepts
This workshop is for you if you want to participate in a thought-provoking exchange of ideas and commonly used approaches applying DonorPerfect concepts for common fundraising tasks. You will not only learn best practice suggestions, but also review topics such as data entry tips to make reporting and exporting more efficient, contact management to be more aware of prospects and donor engagement, creative ways to use calculated fields for more targeted solicitations and reporting results, as well as a review of tools to help save you time.
Topics for the Workshop
DP Best Practice Suggestions
Data Entry Tips
Contact Management
Receipts (including Instant Merge)
Payment Processing Tools *
Import Example
Calculated Fields
Filtering Concepts & Examples
Data Reporting and Exporting
* additional fees for this feature may apply
Suggested Experience Level:
This workshop is designed for people who have some exposure to DonorPerfect and/or fundraising and wish to benefit from the chance to meet other users and share their insights. If you are uncertain as to whether this is a good fit for you, please give us a call. We do offer other training venues if this is not a good fit for you; these include webinars, virtual training or on-site training.
If you find it helpful to work in a DP system a sample database is available, but you will need to bring your own device (laptop, tablet, etc.), as equipment will not be provided.
Class Schedule
Location

(Click for details)

Date

Class

(Click for detailed agenda)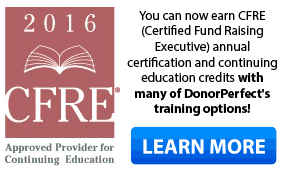 Click here for answers to frequently asked questions about our training classes.
Client Testimonial


DonorPerfect Fundraising Software support team is incredible! When I was a novice, DonorPerfect set up regular conference calls to address my questions and help modify the spreadsheets to fit the data collection needs of our agency.

Karen Knavel
,
New Avenues to Independence, Inc.