Benefits
Improve major donor cultivation
Save time by automating reminders, emails and other tasks
Alert key staff to major gifts, events and more immediately
Schedule immediate calls and other actions for all the right people in your organization
Improve staff and board effectiveness
The SmartActions module allows you to set up actions that your DonorPerfect Online (DPO) system will carry out automatically when the specified trigger conditions are encountered. For example, if a gift of $500 or more is entered into DonorPerfect (the trigger), an email notification can be sent to the Development Director and a call can be set up in the DPO Contact Manager (the actions). You can set up as many SmartActions as you would like. Create pop-up alerts and reminders, send emails, enter data into fields, launch websites – it's all done automatically!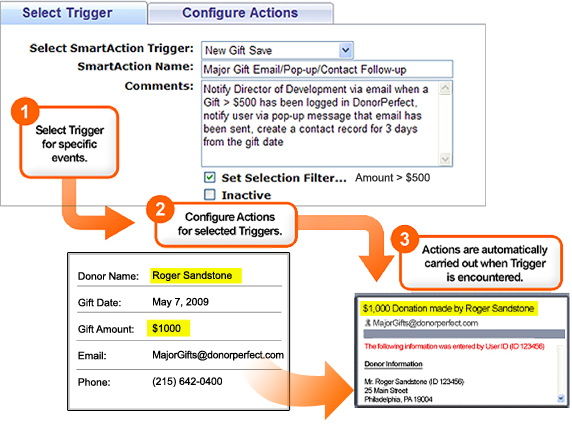 ---
Commonly Asked Questions
What are some SmartActions examples that show how to create workflows in the fundraising software?
Example #1: Any donor that has given over $5000 should only be contacted by the Executive Director. Therefore, DonorPerfect should alert the user as soon as he initially opens any record with a lifetime giving total that is greater than $5000.
Example #2: Whenever a donation with an amount greater than $500 is made, notify the constituent's gift officer and create a follow-up Contact record.
Example #3: When a gift three times greater than a donor's previous average gift is received, send an email to the Development Director and Chairman of the Board with the gift amount, total giving, phone number and email address of the donor.
Do SmartActions work at the system level or user level?
SmartActions operate at the system level. They can be triggered by the actions of any user in the system. However, they can be specifically set up to apply to only one user.
Do SmartActions work if I import data?
Yes. The SmartActions module has an optional setting that will initiate after a successful import of data.
Is there a cost for SmartActions?
SmartActions is included with the Premier and Essentials subscription levels, and is only $29 per month for clients with the Express subscription. We do offer training and consulting options to take advantage of this new module. Please visit the Training Options & Sign-up section of the Client Area of the DonorPerfect website for more information.
Features
Simple step-by-step wizard setup.
Create Triggers when you open, create, edit, or save any of these record types:

Donor
Gift
Pledge
Contact
Other Info
Address record

Combine Triggers with filters to meet specific conditions
SmartActions include the ability to:

Send email notifications to one or more staff
Create a Contact or Other Info record
Update a field
Display a popup message
Open a new browser window and display a specified URL

All Actions can include merged fields for even great flexibility

Print Friendly