Custom Report Builder
THE REPORTS YOU NEED, DESIGNED BY YOU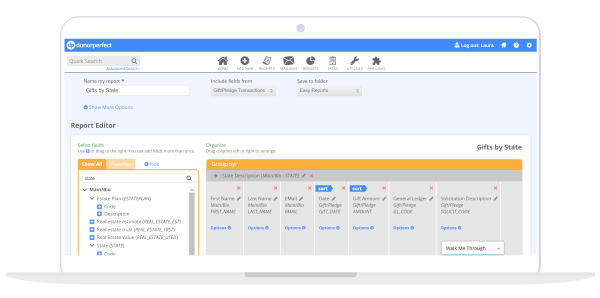 Click Image to Enlarge
With an easy-to-use drag and drop interface, DonorPerfect's Custom Report Builder allows you to select and position virtually any of your DonorPerfect fields. Group, sort, count, sum, and average fields to break down your data further for common uses like "gifts by state," "sum of volunteer hours," and more.
Apply a filter or configure the sidebar options so you can output only the constituents you want to see and what you want to see about them, from giving history to volunteer hours. When you've finished editing your report, email it to anyone, in .PDF, .CSV, Word, or Excel format.
Compare DonorPerfect's Reporting Tools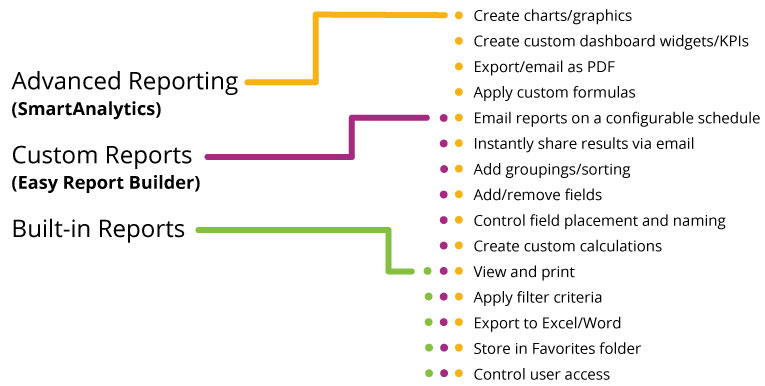 Report Builder and Scheduler Features
Customize Your Reports
Create unlimited reports
Add desired fields to your report
Group and sort results by any field(s)
Edit and copy reports as needed
Display report in portrait or landscape orientation
Separate reports into folders that you create
Instantly email results to anyone
Automate Sending your Reports
Schedule reports to be emailed to one or more people
Send reports on a monthly, weekly, or monthly basis
Gate reports with an optional password
Recipients do not require a DonorPerfect login
We are constantly evaluating our data to figure out better ways to raise money and we really appreciate the power and flexibility of DonorPerfect's Report Writer. We are very satisfied with the system and we think the support staff is the best!
Learn More about Custom Report Builder