Dashboard Analytics
Rely on real-time insights to make informed decisions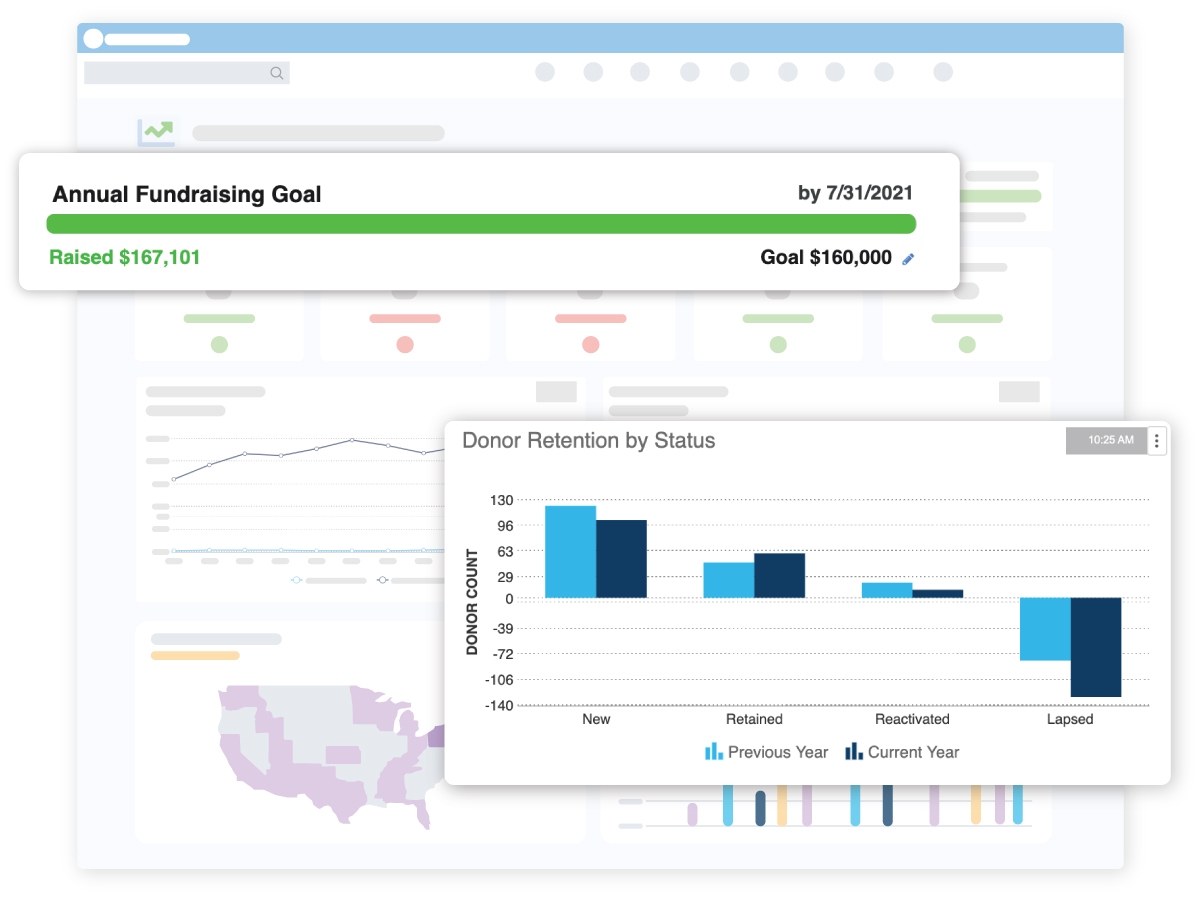 Click Image to Enlarge
Nonprofits that fundraise successfully surround their goals with a wealth of awareness and motivation. DonorPerfect Dashboards help you measure your fundraising results in real time to increase revenue year over year. With your organization's most up-to-date metrics right in front of you, you can analyze trends and adapt to them sooner – or double down on what's working well!
Visualize fundraising success with DonorPerfect Dashboards
Performance indicators at your fingertips
Realize your reach with geo mapping
View and filter DonorPerfect reports
Keep a close eye on fundraising KPIs
Analyze solicitations and general ledger
Review donor updates and gift activity
Set the bar high for your organization
Set an annual fundraising goal by your desired month and year
Support your goal with text, images, or hyperlinks
Download graphs to share with your board
Track growth in giving, average gift amount, and donor lifetime value
View donor retention, including lapsed and reactivated donors
Prioritize your personal tasks
Display information specific to each user's preferences
Select your own quick-access reports and widgets
Filter reports by date, amount, donor type, etc.
View incomplete tasks assigned to you
Grow your monthly giving program
Display metrics that measure your monthly giving initiatives
Monitor payments to reconcile with donors
View total monthly giving by month or year
Track average gift amount and conversion rate
I have been using DonorPerfect for three years in the non-profit sector to help consolidate and streamline our e-commerce services and registration forms with our website. I really like that it is easy to use, the dashboard and website management is easy and simple to navigate, the site itself is quick, the customer service is AMAZING (they literally help troubleshoot and answer all your questions very fast!), and that the metric reporting on the backend is very good. Overall, an excellent product for our line of work."
Learn More About Dashboard Analytics