Dashboard Analytics
Real - Time Insights on a Customizable Display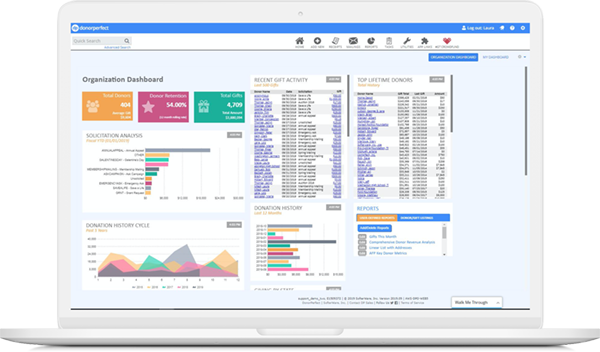 Click Image to Enlarge
DonorPerfect strives to deliver insightful donor data as simply as possible. That's why we created Dashboard Analytics; so you can learn vital information about your donors with a single click. We used our data to learn what metrics nonprofits need to know most, then we created visualizations for those metrics. The DonorPerfect Dashboard displays real-time Key Performance Indicators (KPI's) so you can make informed decisions for your next campaign. Customize your dashboard with 25 crucial widgets like the Solicitation Analysis, Recent Gift Activity, or Top Donor Listing and keep valuable data at your fingertips. Let DonorPerfect do the work for you with Dashboard Analytics.
Organizational Dashboard
Quickly access KPI's with dashboard metrics
Visualize your success with real-time stats and graphs
Customize your dashboard layout with images, links, and reports
Personal Dashboard
Save your favorite reports, then run them with one click
Display your upcoming donor contact activity
Customize your dashboard layout with images, links, and widgets
I have been using DonorPerfect for three years in the non-profit sector to help consolidate and streamline our e-commerce services and registration forms with our website. I really like that it is easy to use, the dashboard and website management is easy and simple to navigate, the site itself is quick, the customer service is AMAZING (they literally help troubleshoot and answer all your questions very fast!), and that the metric reporting on the backend is very good. Overall, an excellent product for our line of work."
Learn More About Dashboard Analytics