Donor Targeting and Filtering
PRECISE RESULTS. EFFICIENT WORKFLOW.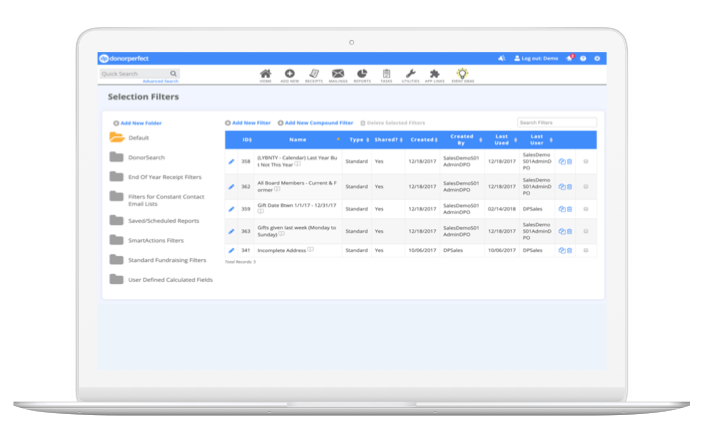 Click Image to Enlarge
Your fundraising success relies on the accuracy of your data so you can operate effectively and make informed decisions about your next move.
Because DonorPerfect allows you to create an unlimited number of fields and calculations to help you manage your data, you can curate your data in a way that is truly tailored to your organization's unique needs. From segmenting your donor groups so they get just the right message to analyzing the success of a very specific aspect of your campaign, DonorPerfect's filtering lends itself to spot-on results.
Donor Targeting and Filtering Features
Filter Functions
Only show records with specified fields that are:
Greater than or less than
Equal or not equal to
Beginning with or ending with
Like or not like
Between
the value(s) you choose.
Use Case Examples
Segment your solicitations (i.e, Email donors within a 50mile radius of your zip code.)
Analyze results (i.e, Compare the 2020 Annual Appeal with the 2019 Annual Appeal.)
Mass update specific records (i.e, Flag all records with a blank email address.)
Permit or limit user access (i.e, Only allow user ID bobsmith to edit records.)
Process a specified list of pledge payments (i.e, Process only payroll deduction payments.)
Fine-tune your search results (i.e, Find the donor who gave $1000 at the Spring Gala)
Know your tasks at hand (i.e, Show my user ID's assigned tasks with a due date of today.)
Set specific alerts (i.e, Email the director when a gift of over $5000 is entered.)
Display desired calculations in records (i.e, Always show total volunteer hours.)
Customer service is fabulous. They never fail to respond almost immediately. Flexibility is also quite high. I can access all the parameters in the system and create an unlimited number of filters to fit my needs."
Learn More about Donor Targeting and Filtering