DonorPerfect Donation Forms
EASY TO DESIGN. EASY TO CONVERT SUPPORTERS.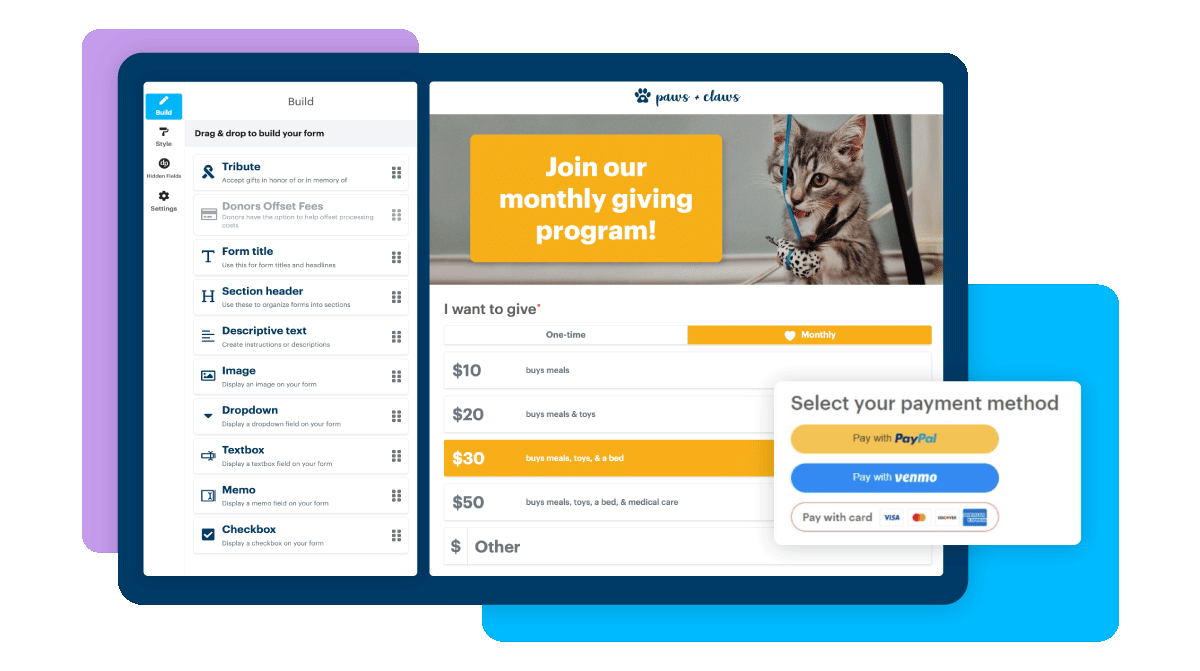 Click Image to Enlarge
Research shows that a donation form that matches your nonprofit branding helps you raise 6x more gifts. You earn your donors' trust by creating an online form that matches your website, and by keeping their gift information safe and sound in your CRM.
DonorPerfect's new-and-improved Donation Forms provide simple, straightforward tools to design forms and convert supporters as easily as possible. This feature is included in your subscription, and all of your data will be automatically synced to DonorPerfect!
Improve conversions through your new DP Donation Forms
Make giving simple, yet rewarding
Allow donors the flexibility to donate via credit card, PayPal, or Venmo
Collect donations via desktop, tablet, and mobile
Share the impact that each gift amount will make possible
Enable tribute donations in honor or memory of a loved one
Catch eyes & build trust
Add text, images, and GIFs with a drag-and-drop tool
Modify your forms with color selection and click-to-type editing
Customize your form URL to match your branding & mission
Embed your form on your nonprofit website & on any browser
Increase conversions & strengthen relationships
Increase average gift size with suggested giving levels
Attract recurring donors with default monthly gift amounts
Steward donors with a customized confirmation page
Allow donors to add as many tribute recipients as they'd like
Do more with your day
Collect and sync all donor contact information for every gift
Automatically collect & process recurring monthly gifts
Sort your data by creating gift codes right in your form builder
Send automated gift acknowledgments & thank-yous
Connect your form to DP email templates for official tax receipts
We are really excited about the comments from our donors saying how easy and intuitive the form is. It's honestly overwhelming how many people have said it. It's such a drastic improvement!"
Learn More about DonorPerfect Donation Forms