DP Donation Forms
Now with simple tools to build forms without hassle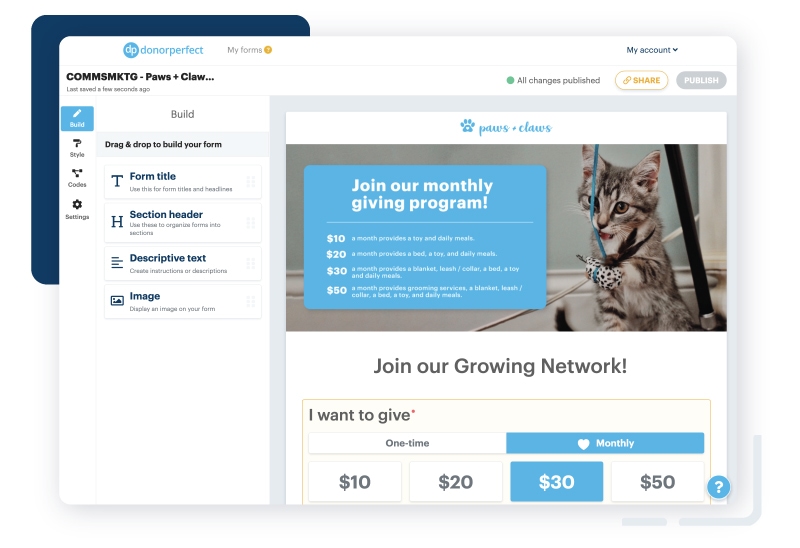 Click Image to Enlarge
Research shows that when your donation forms are styled to match your branding, your organization can garner 6x more gifts. DonorPerfect's new-and-improved form builder provides simple, straightforward design tools to personalize your donation forms as easy as possible – and it's included in your subscription.
Fundraise smarter, save precious time, and give your donors an easy giving experience to build a strong community online.
DonorPerfect Donation Forms
Design forms in minutes
Empower your staff to create forms with intuitive customization features
Get pointers on how to build a form that converts with best practice tips
Style your forms with a drag-and-drop builder and simple color selection
Modify form sections with quick click-to-type editing
Raise more online
Earn donors' trust with branded forms that modernize their giving experience
Encourage donors to stay connected with a custom confirmation page
Increase conversion and average gift size with suggested giving levels
Attract new recurring givers with appropriate default monthly gift amounts
Do more with your day
Collect and sync all donor contact information for every gift
Capture data that sorts itself by creating gift codes right in your form builder
Effortlessly enroll new givers into your automated recurring gift program
Transform your website, emails, and social posts into revenue generators
Stay informed with a dashboard that displays campaign progress
Make giving easy + rewarding
Share the impact of each giving level right on your donation form
Add additional text and images with drag-and-drop form sections
Empower donors to give online at any time, and on any device via forms with improved legibility and scannability
The new online forms are such a wonderful improvement in literally every way. From setup to design to coding, it is so simple and straightforward."
Learn More About DP Donation Forms