DonorPerfect Form Tools
FINDING THE RIGHT FORM TOOL FOR YOU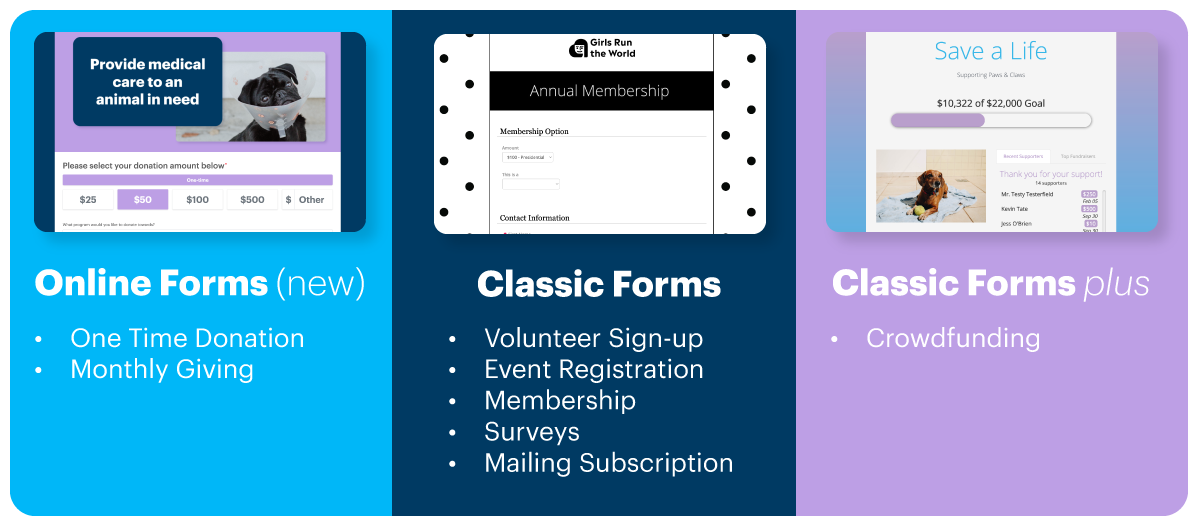 Click Image to Enlarge
Frontline fundraisers know their craft is more than just collecting gifts – it's engaging with their community through a variety of avenues. That's why we offer two distinct online form products to support both functions.
The new DonorPerfect Online Forms were developed specifically for online fundraising, with features that streamline the gift collection process and the donor experience. These include drag-and-drop formatting, default monthly giving, and mobile wallet payments.
DonorPerfect's Classic Forms allow you to create an unlimited number of mobile-responsive forms for event registrations, volunteer sign-ups, crowdfunding, surveys, and more!
Forms Features
Standard features (All Forms)
Nonprofits raise 20% more in their first year with DonorPerfect
Create friendly links for sharing via social media and email
Customize confirmation emails for prompt acknowledgments
Upload images to embed on forms and emails
Select custom colors to match your form to your brand
Apply codes to gift fields to inform your fundraising efforts
Promote recurring gifts with online forms for monthly giving
Share mobile-friendly forms your donors can access from any device
Allow your donors to offset processing fees with an additional donation
Collect tribute donations in honor or memory of your donors' loved ones
Update the content of the header & footer of each form
Online Forms (New)
Built for streamlined gift collection and donor experience
Offer your donors the ease of using PayPal and Venmo
Automatically download all donations entered
Brand your form easily with a color picker tool
Build and reorder your form with drag-and-drop sections
Allow click-to-type editing on all fields and sections
Provide donor-friendly forms with accessibility features
Maximize donations by describing what they will fund
Save time by applying DonorPerfect email thank you templates
Upload an unlimited number of images to your form
Get your questions answered with an in-product help center
Classic Forms
For events, volunteers, surveys, retail, mailing lists, & more
Engage supporters with customizable crowdfunding forms
Simplify events with Event Management Integrated Forms
Offer discount codes for memberships, tickets, and sales
Add, hide, or require DonorPerfect fields from donor records
Reorder fields within each section of your online form
Discover your form's conversion rate with online forms statistics
Customize fields with formatting, character limits, and pixel dimensions
Allow multiple purchases or donations on a single form (Ex. Offer a ticket sale and general donation on a single page)
Increase donor motivation with limited item availability
Select from a variety of templates to build forms quickly
Learn More about DonorPerfect Form Tools