Integrated Online Forms
Raise more money online. Automate data entry.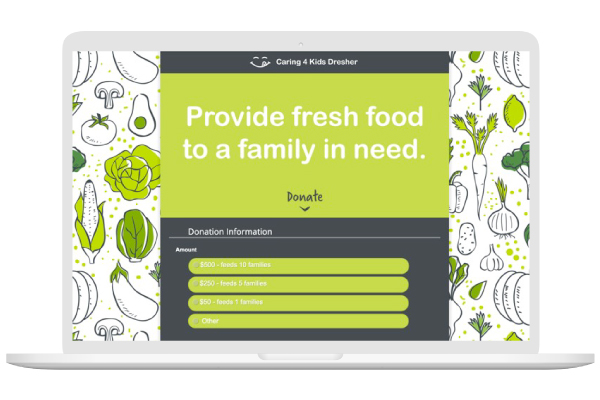 Click Image to Enlarge
Online giving increases by 8% each year. In fact, 61% of donors worldwide prefer to give online. So why not make it easy for them?
DonorPerfect Online Forms makes it possible for you to create unlimited mobile-friendly forms that embed right onto your website and can accept one-time and recurring payments. The best part is, the data entered on your forms will sync with your DonorPerfect system – automatically. No data entry. No room for error. Just more time to focus on your fundraising goals.
Integrated Online Forms Features
Choose from a library of templates
Online donations and membership purchases
Event registrations
Sign-ups
Surveys
Customize your forms
Add logos and change form colors to mimic your brand
Add/edit/delete fields on your forms and make fields required
Add/copy transaction items on your forms
Include a video and/or image at the top of your form
Edit popup messages and standard form text
Create personalized auto-response emails
Customize your form's URL link address
Utilize our in-house payment processing
Process one-time gifts
Establish new monthly gifts
Give donors the option to cover processing fees
Provide discount codes
Collect data and promote social media sharing
Provide links for social media sharing
Use Google Analytics to monitor traffic on your page
Track conversion statistics of one or all forms
Automatically download data into DonorPerfect
Provide your donors with pre-filled forms with SmartGive
We're seeing an increase of over 100% in online donations! I can now concentrate on real fundraising & development issues instead of being a data entry clerk."
Learn More About Integrated Online Forms