How DonorPages Enhances
Fundraising Success!
People are more likely to give when asked by someone they know.
Most people are uncomfortable asking others for money, but are happy to share why they support a cause.
The easier you make it for a supporter to ask and for a donor to give, the greater your results.
A typical supporter will have dozens of email addresses readily available. Even a 5% response rate will allow you to multiply your donor pool.
Tap into the passion of your constituents by helping them reach out to their friends, families and colleagues in support of your mission. With DonorPages, your supporters can easily create individualized web pages under your control, invite everyone they know to visit via email or social networking sites such as Facebook or Twitter. Page visitors can learn about your mission and then donate online, or take other actions such as registering for an event, signing a petition, and more.
Benefits
Empower constituents to solicit and recruit others in support of
your goals
Leverage the viral power of your supporters' social networks to raise more money
Spread the word about your organization and mission
Cost-effectively identify new potential donors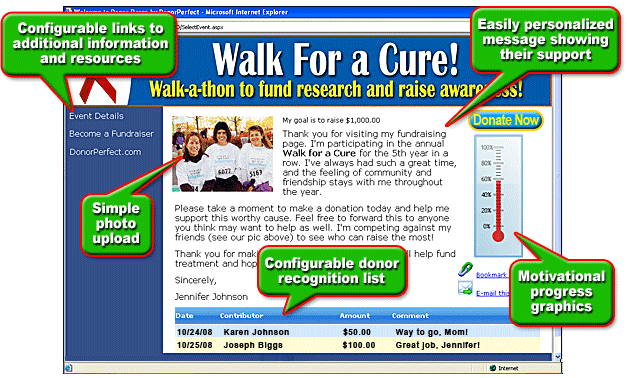 Commonly Asked Questions
What are social networking, Web 2.0 and viral fundraising?
These terms are related to using web-based technology to allow people to communicate and interact online. Click here for definitions of these and other terms.
How can I control the messaging and ensure that nothing reflects poorly on our organization?
DonorPages allows you to oversee the donor page content, including the option to approve each page and changes before they are activated. In addition, you can develop or modify the donor page text templates and email messages to incorporate your desired messaging.
What other fundraising campaigns besides A-THONS can DonorPages be used for?
DonorPages can be used in conjunction with sponsored events like Walk, Bike, Run, and Dance-A-Thons, but it can also be used for capital campaigns, workplace giving or supporter-driven fundraising. Board members, volunteers, and committed supporters are typically happy to have an easy and efficient way to share their passion for your mission.
Some potential uses include: "In Honor of tributes, or memorials; Donations in lieu of gifts for a party; Virtual events (tied to a specific goal, holiday or recognition); Promote a dinner, banquet or other event, (including a link to a registration form)
What's the difference between WebLink and DonorPages?
WebLink is our system for collecting online donations, pledges, event registrations, etc., and powers the "Donate Now" functionality in DonorPages. DonorPages provides the system for creating and managing individual supporter pages that can help drive others to make a donation.
How can I convert DonorPage donors into repeat donors?
It's important to recognize that most donations will be made primarily because of personal affinity for your supporter, not your organization. Successful donor conversion efforts will involve first thanking the donor and focusing initial communication on building awareness of your mission. As with all communication efforts, but particularly those by email, it's important to provide compelling content and not inundate the prospective donor. Always provide the recipient the option to indicate that they no longer wish to receive emails. In this way, when you do send a follow-up solicitation you maximize your chances of receiving an additional gift.
DonorPages Supporter Features
Step-by-step setup tools make it easy for constituents to explain their affinity for your cause
Built-in tool automatically generates emails and links to invite others to visit their donor page
Personalizable "widgets" make it easy to provide compelling links that can be placed on other websites to encourage visits to their donor page
Tools to allow supporters to recruit others to join their teams and create their own donor pages
Post goals and progress via visually appealing graphics and/or text
Option to allow visitors to comment/voice support
Option to publish blog entries or messages
Publish and rejection tools allow your organization to control content and messaging
Reporting tools for supporters to evaluate fundraising results and donor page statistics for their individual or team progress