DP Donation Forms now with PayPal
ACCEPT PAYPAL & VENMO VIA DONORPERFECT DONATION FORMS.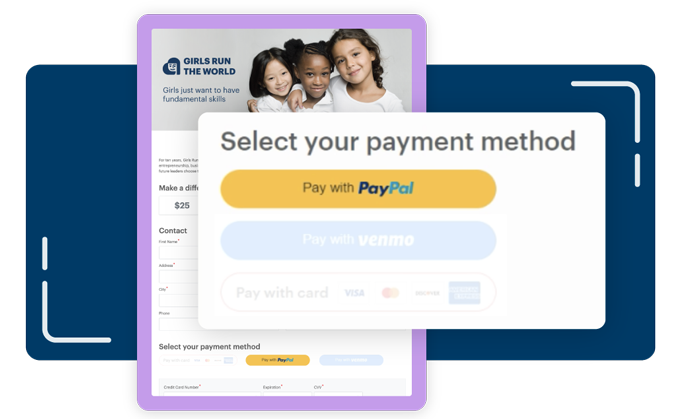 Click Image to Enlarge
Digital wallets like PayPal and Venmo are becoming increasingly popular with both donors and nonprofits because they reduce donor checkout friction. In fact, according to a study by Logica Research, 31% of US respondents would not have made their donation without PayPal being offered as an option.1
With the NEW DP Donation Forms, your donors can now enjoy a frictionless donation experience with improved payment flexibility that includes PayPal and Venmo – and these new forms are included in your DonorPerfect subscription!
*Inclusive of PayPal payment processing fees and DP integration fees. Fees are subject to change.
1Logica Research, Commissioned by PayPal, March 23-April 2, 2021. Logica Research conducted an online survey averaged 10 minutes among a sample of 4,306 non-profit merchant respondents from four countries (U.S., Canada, Australia, and U.K.), who made a monetary donation using PayPal to qualify. N=1,076.
Set up in seconds to reduce checkout friction
Connect your PayPal business account to accept mobile wallet donations. If you don't have a PayPal business account yet, you can create one right through your form builder
Add a PayPal button to any and all of your forms
Once PayPal is active on your form, US donors can also donate via Venmo
Build trust & drive conversions
Eliminate the donor's burden of entering their card and contact information
Studies show that in the US, 37% donate more if they can use PayPal1
Collect donations & capture donor info via desktop, mobile, or tablet
Ensure accurate records & reports with automatic data entry
Automatically update DonorPerfect with new donor and gift information
Give donors the power of choice
Allow supporters to donate with any payment method in their PayPal wallet, which may include:
PayPal balance
Debit/Credit card on file
Venmo (US only)
Checkout with Crypto
PayLater options including PayPal Credit and Pay in 4 (you receive the full donation upfront)
Bank account
PayPal processing via DP Forms - Pricing & fees
US nonprofits with PayPal Confirmed Charity status pay 2.89% + $0.49 per domestic transaction.
US organizations without PayPal Confirmed Charity status pay 3.79% + $0.49 per domestic transaction.
Frequently Asked Questions
1. Can PayPal be used for fundraising?
---
2. How do I make a PayPal donation link?
---
3. When will I receive my funds?
---
4. What NPO name will the donor see on their bank statement?
---
5. Will my donations through PayPal/Venmo show up in my gateway?
---
6. Will my fees be charged by SafeSave through DonorPerfect?
---
Learn More about DP Donation Forms now with PayPal