Compare DonorPerfect and eTapestry
Compare DonorPerfect to eTapestry
Determine if DonorPerfect is the best choice for your mission.
SEE DONORPERFECT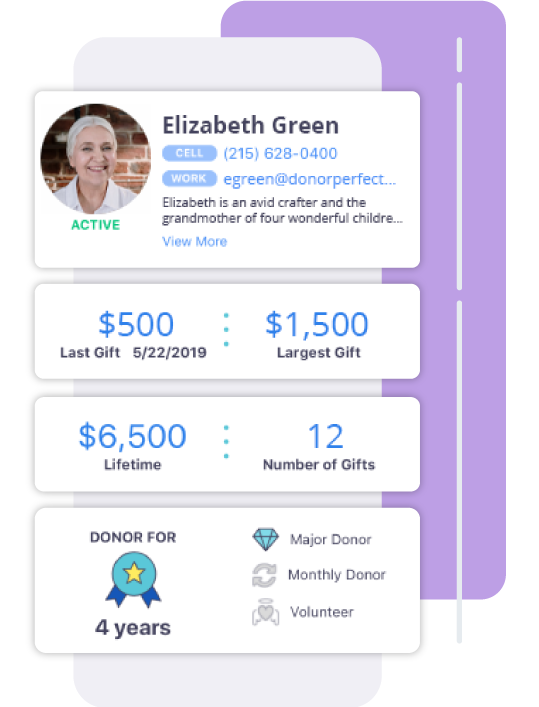 Which Fundraising CRM is Best for Your Nonprofit?
Online giving continues to grow as donors look to digital giving methods in place of in-person engagement. If you're aiming to enhance your online donation forms, analyze and improve your email campaigns, and automate aspects of donor engagement, DonorPerfect may be a better choice for your team.
DonorPerfect provides the tools and features you need to:
Create and customize an unlimited number of online forms and emails
Offer a truly mobile-friendly online giving experience
Adapt data-based email marketing strategies with ease
Keep staff members aligned with automated task assignment
A Closer Look at Key Differences Between DonorPerfect and eTapestry
Feature
DonorPerfect
eTapestry
Ease of Use
Items such as filters, communication templates, import templates, and user-defined fields exist on separate screens. This leaves less room for data entry error and creates standardized, consistent data organization.

Create personalized letters by merging donor information and exporting via Microsoft Word.
Manually organize your database into categories. This includes items like filters, communication templates, import templates, and user-defined fields.

Learn a new interface to create and merge letters. Microsoft Word is not available to users.
Online Giving
Allow donors to opt to cover processing fees.

Optimize donation forms for mobile via large buttons and fields.

View online form content on desktop via one long page scroll for easy scanning and filling.
N/A

N/A

On desktop, view online form content spread across a full webpage. Information about giving levels is located to the right of the form fields.
Pricing
Choose from 5 pricing bundles to best accommodate your nonprofit's needs.

Access unlimited online forms for online giving, event registration, newsletter sign-ups, volunteer hour logging, and more.

Users can send an unlimited number of emails via DonorPerfect's Constant Contact integration.
Choose from only 3 pricing bundles.


Adhere to a limit of 10 online forms and pay additional costs to request more.

Send a fixed number of emails that are allocated to your subscription on a yearly basis.
Customization
Create custom calculated fields to populate specific information in donor records like the most recent gift or communication, date of first volunteer experience, as well as counts, sums, and averages of gifts made to certain funds or within a specific date range, and much more. These fields can also be used in filters and reports.

Hide and display fields conditionally, based on the type of data being entered (ex: stock gift vs. cash donation).

When merging records, select which items you'd like to keep in the new, combined record.
N/A


N/A


Only select one of the two records you would like to keep.
Email Marketing
Facilitate A/B testing with DonorPerfect's Constant Contact integration to determine better performing emails.

Trigger certain emails to send, based on how recipients interact with other emails you've sent them.

Sync email metrics with constituent records to record opens, opt-ins, campaigns, etc.

N/A


N/A


N/A
Integrations
Sync Quickbooks Online with your DonorPerfect database.

Promote and record matching gifts with a Double the Donation integration.
N/A

N/A
Automation
Assign tasks to users automatically, based on actions taken in the database (ex: Task a board member with personally calling a donor to thank them when a major gift is recorded).

Automatically assign flags to constituent records when they meet specific criteria.

Credit cards auto-update to avoid lulls in recurring giving due to expired, lost, or stolen credit cards.
N/A


N/A

Contact individual donors in order to update credit card information. Once received, the new information must be entered manually.
We're seeing an increase of over 100% in online donations! I can now concentrate on real fundraising & development issues instead of being a data entry clerk."
– – Michelle H., Director of Development
Learn more about DonorPerfect by getting a personal demo from a member of our team