Compare DonorPerfect to Excel
DonorPerfect Fundraising Software versus Excel
Determine if DonorPerfect is the best choice for your mission.
Why a CRM* system is best for your nonprofit?
Excel spreadsheets and other free tools can be a great way for new nonprofits to start organizing their data and processes. As your nonprofit grows, you may find that a series of disconnected tools is holding you back from reaching your fundraising potential. Are you running into issues with multiple versions of the same document, or different people using different spreadsheets? Do you worry about losing track of donations or tax receipts? Did you have a great meeting with a donor, only to forget what you discussed a few weeks later?
Luckily, fundraising software is specifically designed to meet your needs. With DonorPerfect, you can put your mind at ease knowing your donor information is accurate, organized, and easily accessible – even on the go.
* Fundraising-specific Constituent Relationship Management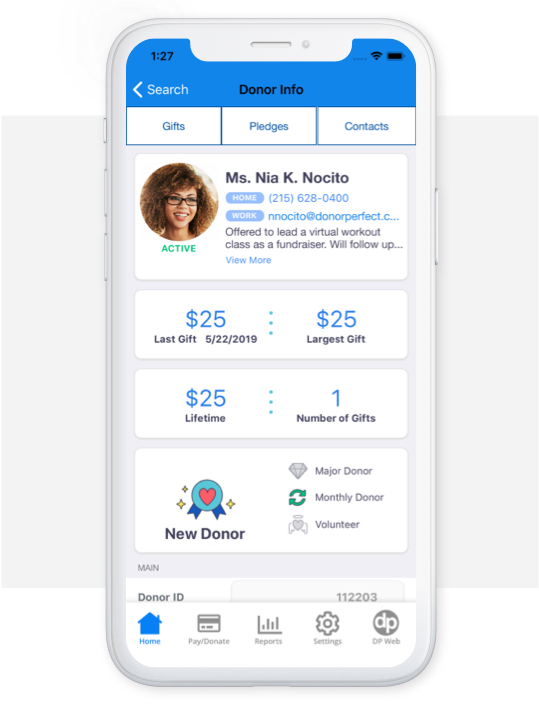 Here's a small sample of what you can track and manage with a CRM:
Constituent records
You can store information specific to your donors, volunteers, corporate sponsors, grant-givers, and tribute honorees in your CRM. This includes donation history, contact information, notes from your last meeting, and other key details that help you know your constituents. Not all constituents are necessarily donors, but they're all important to your mission and you can track your interactions with them all in one place.
Gift records
Every donation is tracked with a date, receipt number, donor information, donor intent, and payment type.
Pledges
If a donor would like to give monthly or make a large gift over a longer period of time, they can start a pledge. This is essentially a promise to donate a specific amount by a specific date - such as $25,000 in total split up into $5,000 annual payments, or $120 over the course of a year in $10 monthly payments. A pledge in your donor database keeps a record of payments promised, but not yet made, and you'll be able to keep track in real time when payments arrive.
Filters and reporting
Filters and reports help you make sense of your data, and can help inform your fundraising strategy. For example, you can filter your donors by geographic area or payment type, or you can run a report that pulls every donor who made gifts in response to a specific solicitation.
Integrated online donation forms
When integrated with your CRM, online donation forms can automatically sync donor information with your database. You can securely process payments and keep track of donations, all in one place.
Receipts and thank you letters
Donation receipts are critical for donors as they file their taxes. In the United States, tax receipts must include the total amount of the gift, the fair market value of the gift if applicable, and the name of your organization. Thank you letters are just as important, and offer a more personal touch. They express gratitude toward your donors and can show your donors the impact they are helping make possible.
Tasks and to-dos
You can set up reminders for specific tasks, for yourself or others on your team, like calling a donor to thank them for their gift, or sending out follow-up emails to everyone who attended an event.
Automated workflows
You can set up regular tasks and reminders for things like thanking monthly donors twice each year, reminding past supporters of important days like Giving Tuesday, automated monthly giving processing, including all follow-up tasks so the onus isn't on you to remember everything on your own.
Triggered alerts
If you want specific events or tasks to trigger reminders for your next steps, you can set up automatic reminders and to-dos. For example, if a donor makes a gift above a specific amount, you can set up an automatic trigger to email your executive director to give them a thank you call.
Split gifts
Some donors want to support multiple initiatives with one gift. Rather than asking them to write multiple checks or fill out an online form for each initiative, you can split their gift on the back end, simplifying the donor's giving experience.
Campaign tracking
A fundraising campaign typically has a specific goal with start and end dates. This can include capital campaigns (such as raising the required funds for a new building), annual giving events like Giving Tuesday, events, and more. They help track progress toward specific goals alongside tracking overall annual fundraising results.
Integrations
DonorPerfect partners with other tools, like Constant Contact and QuickBooks, and each program communicates with DonorPerfect for seamless organizational management for your entire nonprofit.
Moves management
Many donor relationships follow a cycle that includes identifying the donor, cultivating their interest in your nonprofit, asking for a gift, and thanking them for their generosity. Tracking moves management means you won't accidentally ask a donor for a gift at an inappropriate time, and ensures every donor will feel valued by your nonprofit.
Multiple user levels
You can customize user views in your CRM so that each staff member or volunteer sees what is most useful to them, or allowed to see for security reasons. For example, your development director may want access to all of your donor data, and your executive director may want to only see a 30,000 foot view of fundraising progress.
Soft credits
If someone is heavily involved in a donation, but didn't actually write the check themselves (such as a company representative, or a donor's family member who plays a key role in decision-making), you can give them soft credit for the gift. This way, you can write them a thank you note and keep them connected to your organization, but they won't get a tax receipt or any paperwork that doesn't apply to them.
Contacts
To keep track of relationships with specific donors, you can record what you discussed in specific conversations, what types of communications they've received (like emails, letters, or phone calls), and how they like to engage with your nonprofit.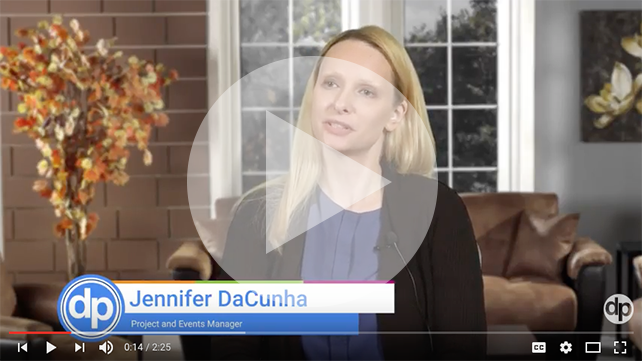 In my previous roles, I used Excel (and other software) and I can tell you by far DonorPerfect is the best thing I've used. DonorPerfect is super friendly, super easy, and support (team) is second to none…the best support team I've ever dealt with. With DonorPerfect…having that integration between all your partners and products makes it seamless for me, as an Event Manager, because everything is in one spot. I don't have to worry about importing and exporting, and all those other things I had to do when I used other software at other companies."

- Jeff Anderson, Children's Choice
I was using an Excel spreadsheet before and the problems are numerous unless you're just a master at Excel. We researched a lot of (donor management solutions) and we like the Constant Contact (integration). DonorPerfect is a great system that will do a lot of your work for you. It will make you more efficient."

- Jennifer Daunha, Eden Autism Services Foundation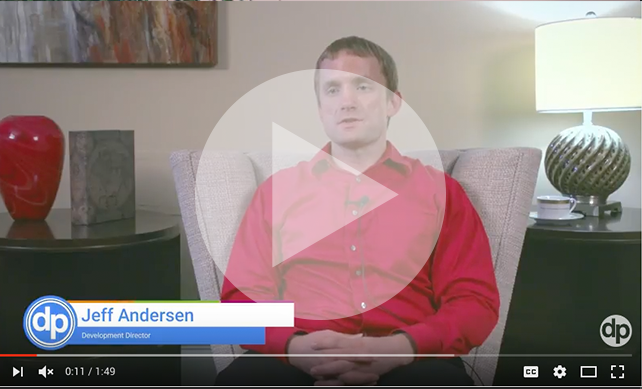 Reach your full fundraising potential with DonorPerfect