Compare DonorPerfect to Keela
See if DonorPerfect is the best choice for your mission.
SEE DONORPERFECT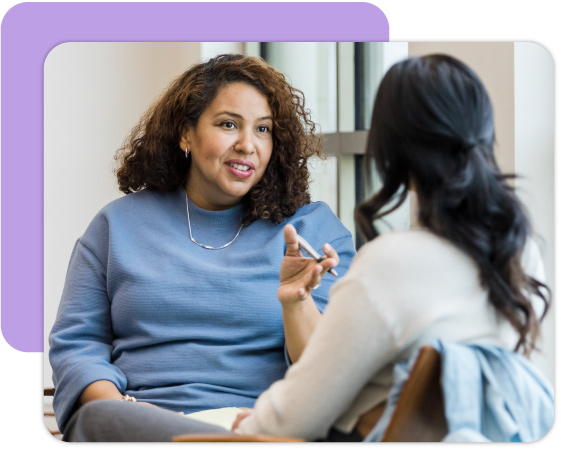 With DonorPerfect, you don't have to fundraise alone.
With over thirty-five years of history as a trusted fundraising software solution, we know how much care and effort goes into managing and utilizing your nonprofit's data. That's why you'll always have access to our team of experts, from your first day of onboarding through closing your next major gift.
Our support team brings an average of eight years of experience to each interaction, and we see our clients' success as our success. And since new DonorPerfect clients raise 25% more funds in their first year with us, it's no wonder we're trusted by over 60,000 nonprofit professionals in North America and all over the world.
Get everything you need from your data
We like to think of your fundraising data like ingredients in your nonprofit's pantry. Depending on what you need to make, we're ready with the recipes that will set you up for success. And if we don't already offer exactly what you're looking for, you can create custom reports – on your own or with the help of a trusted expert.
Compared to Keela, DonorPerfect offers robust reporting that turns your data into actionable fundraising insights.
Fundraising Data Feature
DonorPerfect
Keela
Pre-built reports
Includes over 70 ready-to-run reports to help you understand trends, boost campaigns, and plan effective fundraising efforts.
Offers over 15 pre-set fundraising dashboards.
Custom reports
Offers different options for creating your own, personalized reports. Between our Easy Report Builder and SmartAnalytics, DonorPerfect includes:
– Unlimited custom reporting
– Ability to edit and copy reports as needed
– Keep your reports organized and accessible with folders you can create and customize
Allows users to customize preset dashboards with data points around fundraising, contacts, memberships, interactions, and nonprofit industry key performance indicators (KPIs).
Automation and sharing
Keeps your team synchronized with regularly scheduled reports sent directly from your DonorPerfect system.

You can keep your data safe by gating reports with an optional password, and automatically email one or more people with all of the fundraising data they need to succeed – no matter whether or not they have a DonorPerfect log-in.
Not included with Keela, so reports are manually generated and sent to your team.
We are constantly evaluating our data to figure out better ways to raise money and we really appreciate the power and flexibility of DonorPerfect's Report Writer. We are very satisfied with the system and we think the support staff is the best!
– Brenda O'Conner, Museum of the Rockies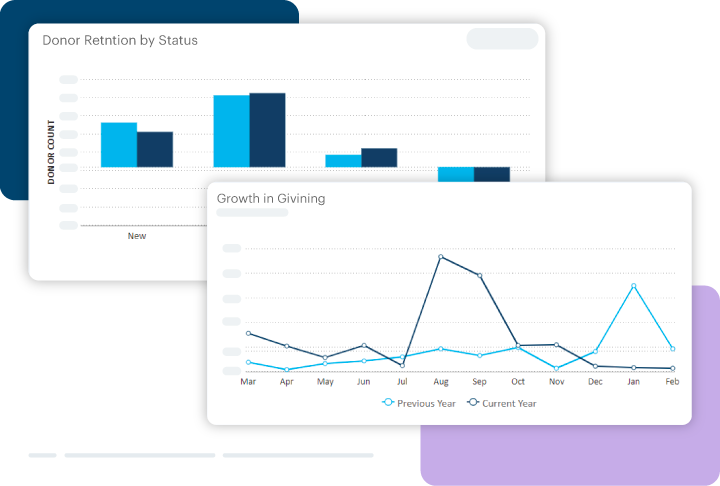 Fundraising Software that Grows with You
Your nonprofit doesn't grow on a set schedule, so it helps to have a CRM that doesn't trap you in a long-term contract. DonorPerfect offers nimble, month-to-month subscriptions that allow you to pay for the features you actually use without wasting funds on anything you don't need.
Your success is our success. We're happy to support your nonprofit's growth by creating fundraising software that can take you from drafting your first mission statement to managing relationships with thousands of passionate supporters.
I really appreciate the service we have received thus far. From the sales team to the implementation to the mapping specialist – everyone has been very attentive and helped make the transition as simple and painless as possible!
– Myrna Pappas, Venice Community Housing
Premium Comes Standard with DonorPerfect
95% of DonorPerfect users stay with us year after year, and it's no secret why: on top of our platform and features, we know that nothing beats high-quality service offered by knowledgeable, passionate people. In fact, we take such pride in the support we provide, that our baseline standard is others' above-and-beyond.
| Feature | DonorPerfect Standard Support | Keela Premium Support |
| --- | --- | --- |
| Live, online chat support | Included free as part of your subscription (Monday to Friday, 8:00 am – 8:00 pm EST), and you get a full interaction until your issue is resolved. | Offered for $60/month and is available from 1:00 pm – 5:00 pm EST. |
| Live training (webinars), specialty workshops, and expert-led seminars | Included with all subscriptions, in addition to our Nonprofit Technology & Fundraising Blog, free collection of guides and ebooks, and the Nonprofit Expert podcast. | Offered for an additional fee of $60/month. |
| Phone and email support | Offered as an additional option to add unlimited phone and email support for $29/month. Our support team is available Monday to Friday, 8:00 am to 8:00 pm EST. | Offered as an additional option to add limited phone support starting at $60/month. Users are limited to one call per day, scheduled 2-3 days in advance. Keela's support team is available Monday to Friday, 1:00 pm to 5:00 pm EST. |
Learn more about DonorPerfect