Would you like to double the value of many of your donor gifts?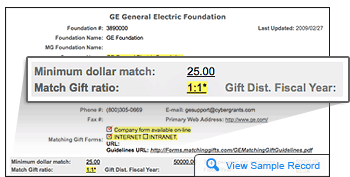 We've partnered with the leading manager of corporate matching gift data to provide two great services to increase matching gifts. GiftPlus Online® lets you quickly check if a donor's employer has a matching gift program, and E-Match® offers the ability to add a link to your website so donors can check this information for themselves.


GiftPlus Online contains more than 8,000 matching gift companies, subsidiaries and divisions that match employee gifts to nonprofit institutions and organizations. This online service provides everything you need to know about an employer's matching gift program, without you having to make any calls to the companies!

How does GiftPlus work?
This service provides a full year of access to an online matching gift database, which contains all of the information you need to collect matching funds such as:
complete contact information
procedures and deadlines
minimum/maximum match amounts
eligibility requirements
restrictions and conditions
a link to the company's matching gift request form

The E-Match Donor Link is a custom created link that appears on your website to help your constituents and friends check if their employers will match their gifts to your organization. Instead of directing donors to their employer's personnel office, they can now check their match status online in seconds!

How does E-Match work?
This service provides a link on your own website for your donors to use to research their own employer's matching gift policies. From your homepage, your donor simply keys in their employer's name. Instantly, they are told if their gift to your organization can be matched. If they are match-eligible, their employer's match policy information will be listed, just as with the GiftPlus Online service.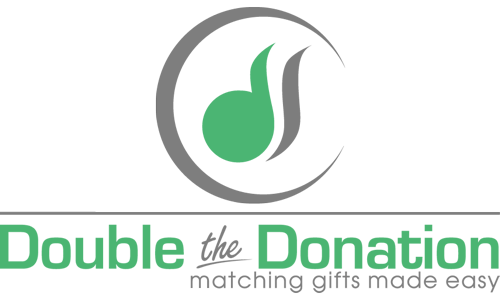 This subscription-based service enables DonorPerfect clients to place a widget on any WebLink form to allow donors to check if their employer (or spouse's employer) has a matching gift program. Once individuals find their company they access instructions on how to claim the matching gift
Also included is the ability to either embed Double the Donation's widget directly on your own website or direct donors from your website to a dedicated matching gift page customized for your nonprofit on Double the Donation's site.
View the complete step-by-step Double the Donation / DonorPerfect integration guide at.
Benefits:
Oftentimes, all donors need is a bit of guidance on how to get their donations matched. Donors enter their employers' names and gain access to immediate matching gift eligibility, guidance, forms, and more.
Double the Donation's team maintains up-to-date records on corporate employee giving programs, so you don't have to. This ensures your donors receive accurate and useful matching gift and volunteer grant information. Also provided are marketing resources to help nonprofits promote matching gifts to donors.
Everything Double the Donation's service does is specifically designed to help your nonprofit maximize the amount of money being raised from employee matching gift and volunteer grant programs.