Peer-to-Peer Online Social Network Fundraising!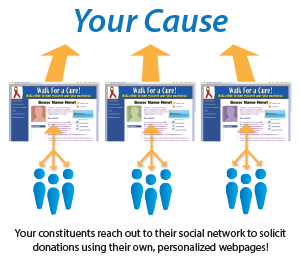 When asked why they donate to a particular organization, over 50% of donors say, "Because a friend asked me!" DonorPages makes it easy to set up web sites that allow your supporters to have personal online fundraising pages. Your donors, volunteers and supporters can reach out to family, co-workers and more via email, links on Facebook and Twitter, or simply passing on their personal page address. Statistics show that when appeals come from family and friends, donors are more likely to give – and give more!
You can have unlimited DonorPages sites, for events, memorials and ongoing campaigns that empower your constituents to ask for donations on your behalf! DonorPages uses WebLink forms for donations and registrations, which are automatically tagged with the same soliciation code to make it easy to run reports in DonorPerfect.
Major Features:
Unlimited fundraising sites, pages and forms – no extra charge!
Individual and Team options
Includes WebLink Pro for advanced form field editing
Easily brand sites with your graphics and content
Option to display top fundraiser list to encourage friendly competition
Create unique forms for your sites, each with unique automatic receipt/response emails

Perfect for:
Events Fundraising
(Walks, Runs, Walk/Runs, Bike Rides, Dance-a-thons, Bowling, Golf, etc.)
Memorials & Tributes
Capital Campaigns & Annual Appeals
Individual "Self- Fundraising"
(Doctors, Nurses, Teacher self-funding overseas mission, scholarships)

Supporter-Driven Fundraising
(Individual Bike Rides, Parties, Birthdays, Bake Sales, etc.)
Brief Overview: Watch the video at right for a brief overview.