Social Media Posts That Stand Out on Giving Tuesday
When it comes to Giving Tuesday, social media reigns supreme as the best channel to create instant buzz for the day-long fundraising campaign. That makes Facebook, Twitter, and Instagram essential components of your Giving Tuesday outreach initiatives.

4 Social Assets to Prep Prior to Giving Tuesday
A Giving Tuesday social spreadsheet
It pays to prepare your social posts ahead of time, so all you'll need to do is copy and paste on the big day. Even better, a spreadsheet gives you the opportunity to record and analyze which posts are getting the most buzz leading up to Giving Tuesday so you can alter your day-of posts accordingly.

A 280 character campaign
Your Giving Tuesday campaign should say what you need to say in the amount of time it takes for a donor to scroll on past your post in their Twitter, Facebook, or Instagram feed. Practice saying a lot with less text by prepping your posts in advance.

Dazzling photos
Because social media plays to short attention spans, it's crucial to create eye-catching posts. Complement your ask with photos that show people the direct impact of their donations. Show them why they should give to you.

Your social media post scheduler
A social media management tool like Hootsuite can take the stress out of timing your Giving Tuesday social posts by allowing you to schedule them in advance. This way you can post your Giving Tuesday messaging to Facebook, Instagram, Twitter, and other Social Networks more easily.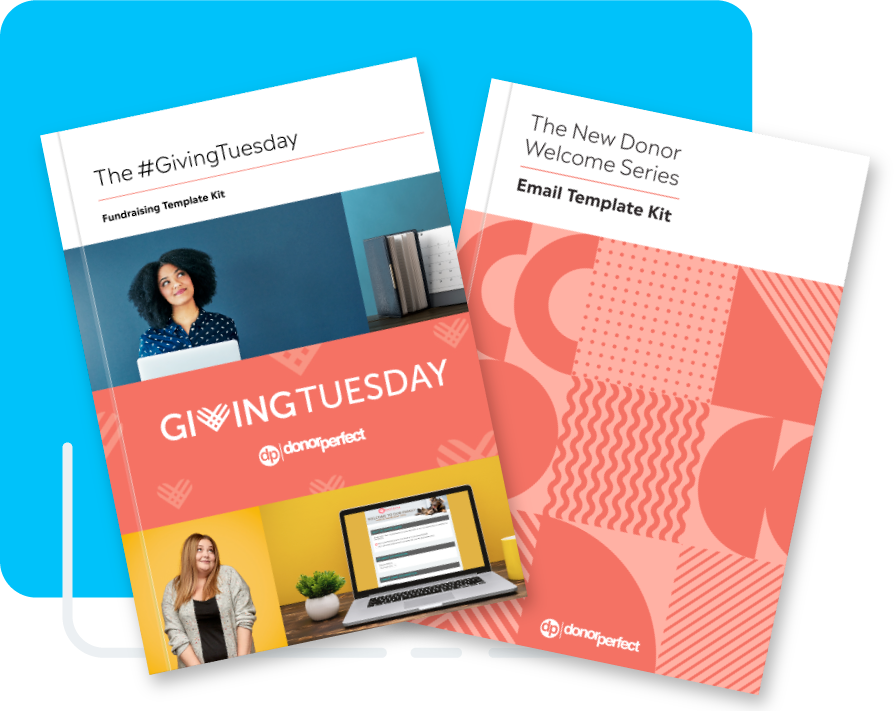 Get Started with These Giving Tuesday Email Templates and Timeline
Before you go any further, get all the templates you need delivered right to your inbox! Request The #GivingTuesday Fundraising Template Kit and The New Donor Welcome Series Template Kit here.
These email send dates will help you get the word out and keep your supporters updated on your Giving Tuesday goal progress throughout the day. Check out the corresponding template for each one below.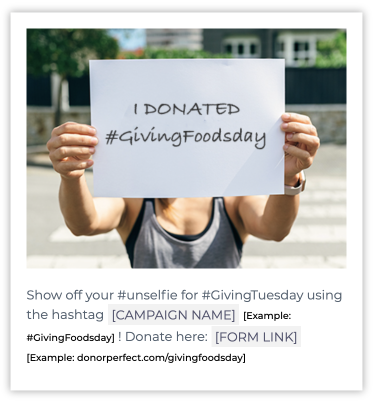 An unselfie gives donors the chance to send you a smile, and they'll also be sharing the fact that they supported your cause to their entire social network. What's an unselfie? It's a selfie from the donor with a caption or a sign that tells who they're supporting for #GivingTuesday and why.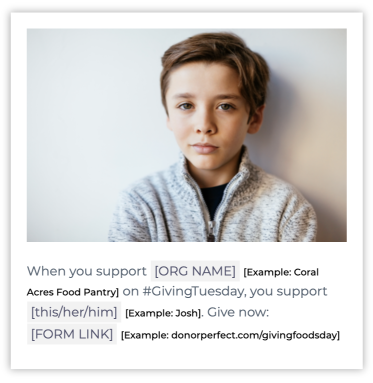 A picture is worth a whole lot more than a thousand words on Giving Tuesday. Gorgeous photos that invoke warm and fuzzies, ugly cries, or a call for justice will help your cause stand out in a sea of Giving Tuesday asks.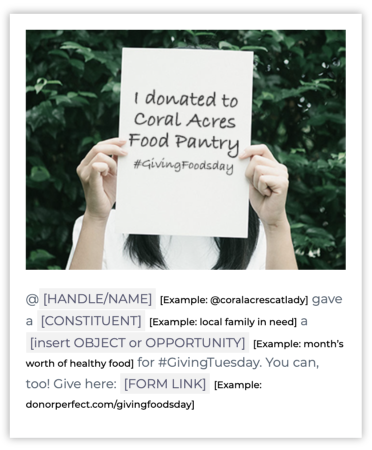 Say thanks and get more gifts by calling out your supporters on social media. It's as easy as 1-2-3.

1. Search your campaign hashtag to see the unselfies posted by your donors.
2. Right click and save the unselfie images to your desktop.
3. Tag the donors in your post and share how their gifts translate to good. Be specific! Not sure how? Check out the examples in the brackets above.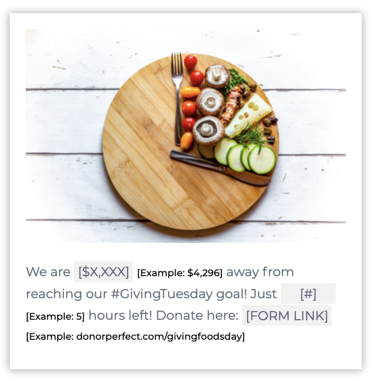 Provide to-the-minute updates that tell your donor base just how close you are to Giving Tuesday success. With a single click, your supporters can advertise your ask to all of their followers to get you over your Giving Tuesday goal amount.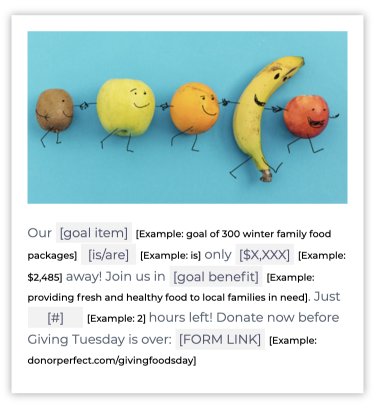 Translate your ask into something tangible. When donors can attribute their monetary gift to something specific, they're more likely to give.
Get the Giving Tuesday Cheat Sheet