Be informed about what's going on with your constituents. BoldTypeNews searches thousands of newspapers for news on your contacts to connect you with someone who can help your cause.
Benefits
Learn what actions your contacts are taking that align with your mission, so you can network with them.
Discover talents among your constituents that may benefit your mission.
No researching required - you are sent one daily email with links to articles that mention your contact, found within the previous 24 hours.
Obtain information with minimal effort - BoldTypeNews works with the contact information already stored in your DonorPerfect system.
Information can be viewed at any time on BoldTypeNews.com with your login.
Features
One daily email with links to news articles, containing your contact's name
Color coded system to indicate how closely the name in the article is matched with the name in your database
Accuracy determined by the name and location of your contact
Access to news database with login credentials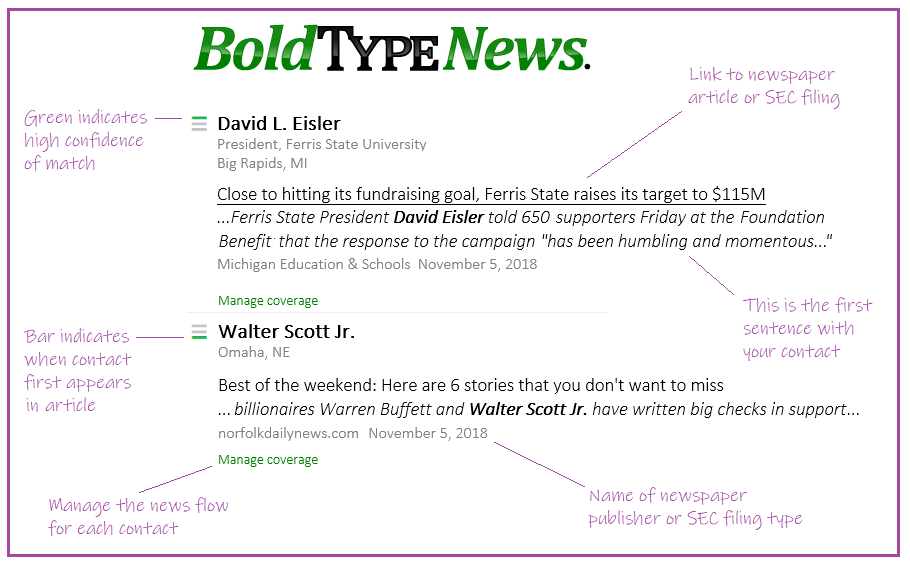 Fast Facts
About: BoldTypeNews emails you news articles that mention your constituents for networking opportunities.
Category: Prospect Research
Country Availability: United States
Integration Type: One direction API
Learn More and Request Pricing