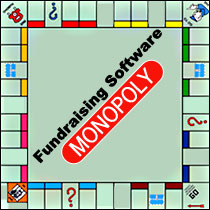 Horsham, PA, May 30, 2008 — Blackbaud's (NASDAQ: BLKB) $46 million acquisition of Kintera (NASDAQ: KNTA), announced May 29th, continues Blackbaud's efforts to eliminate competition and monopolize the nonprofit software market. The purchase, which is likely to be good for both Blackbaud and Kintera shareholders, is liable to lead to diminished software options for the nonprofit community.
Douglas Schoenberg, CEO of SofterWare (parent company of DonorPerfect™ Fundraising Software) notes, "It seems unlikely that Blackbaud will be interested in much of Kintera's constituent management technology, which mostly overlaps with products they already have. It's more likely that Blackbaud will follow its past methods of fairly quickly discontinuing most of Kintera's current products and aggressively trying to convert Kintera clients to Blackbaud offerings." Schoenberg also observed, "These kinds of hardball tactics do cause many nonprofits to look for new software instead of the "upgrade" path being forced upon them. However, Blackbaud's huge profit margins mean they can make the acquisition pay off for the shareholders, even if they lose a significant number of Kintera clients."
DonorPerfect offers Crowdfunding Social Network Fundraising – A Real Alternative to Blackbaud
Jon Biedermann, Vice President of SofterWare, Inc., noted, "Kintera has struggled to develop a comprehensive Constituent Relationship Management (CRM) System to complement their sponsored event system. So it would seem to make sense for Blackbaud to try integrating Kintera's fundraising event tool with their existing product, Raiser's Edge. However, integrating two separate products that were not designed to work with each other is always challenging, time consuming, and inevitably ends up sacrificing functionality or ease of use or both."
Mr. Biedermann also noted, "The good news for nonprofits seeking a fully integrated fundraising and sponsored event/social networking solution is that DonorPerfect recently released an alternative social network fundraising solution at the AFP International Conference in San Diego. Our Crowdfunding was designed from the ground up to integrate with our industry leading DonorPerfect and DonorPerfect Online fundraising systems. Crowdfunding enables a nonprofit's supporters to easily create individualized web pages under their control, and invite everyone they know to visit via email or social networking sites such as MySpace™ or Facebook™. Page visitors can learn about their mission and then donate online, or take other actions such as registering for an event, signing a petition, and more. "
Mr. Biedermann further observed, "Nonprofits are looking for full-featured solutions that are easy to use, well supported, and do not come with the enormous fees that eat into needed funds for their mission. That's why we're in business, and why we remain committed to being an independent provider of technology for nonprofits of all sizes."
About SofterWare, Inc.

SofterWare, Inc., based in Horsham, Pennsylvania is a leading provider of software to nonprofit organizations, with over 10,000 clients throughout the world. In addition to the company's DonorPerfect fundraising software, SofterWare also offers software for managing childcare centers, public and private schools, and camps and conference centers. For more information on SofterWare and its products, please visit www.softerware.com. For more information on DonorPerfect Fundraising Software, please visit www.donorperfect.com or www.donorperfect.ca.
Media Contact
Sam Goldenberg
215-542-4390 x233
sgoldenberg@softerware.com
www.donoperfect.com