DonorPerfect fundraising software was named a 2010 Campbell Award winner for exceptional customer satisfaction.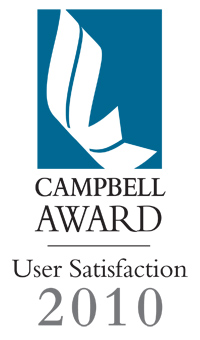 Horsham, PA – DonorPerfect fundraising software was recently honored with a Campbell Award for exceptional customer satisfaction. According to the independent polling firm Campbell Rinker, award winners were those with the highest proportion of customers saying they would recommend the product to others.
Jon Biedermann, Vice President for fundraising solutions at SofterWare, Inc., developer of DonorPerfect, said "We were very pleased to learn that our clients who participated in the Campbell survey, without any contact from us, overwhelmingly recommended DonorPerfect donor management software to their peers. We're proud of this accomplishment, and it's a validation of the hard work and commitment of our 150+ employees. Nonprofits can feel safe knowing they're using DonorPerfect fundraising software, while saving precious time and raising more money than with other software."
Doug Schoenberg, CEO of SofterWare, noted "This further validates other independent reviews that consistently rank DonorPerfect as one of the best products and values in the marketplace. For example, N-TEN and Idealware, two nonprofit organizations, gave DonorPerfect more 'excellent ratings' than any other vendor in their report "A Guide to Low Cost Donor Management Systems". They also noted that 'DonorPerfect has functionality as strong as any system we reviewed…and they are laid out to be among the easiest to use.' We intend to continue being deserving of that accolade."
The Campbell press release noted that "The survey was conducted online during June and July of 2010 among 2,866 U.S. customers of software and online solutions used for fundraising and donor management. The poll has a margin of error of ±1.8% at the 95% confidence level. Questions in the survey asked about user satisfaction, pricing preferences, purchasing habits, and organizational dynamics. Eighty-eight percent of those who responded to the survey influence purchase decisions for these types of products."
A summary report with additional results from the study will be available to those who request it HERE. More comprehensive results from the study are available to software companies (details).
About Campbell Rinker

Campbell Rinker has specialized in providing market research to the nonprofit world since 1991, and is a member of the Council of American Survey Research Organizations (CASRO) and the Marketing Research Association (MRA). Questions and requests for Campbell Rinker can be sent through campbellrinker.com/contact_us.html.
About SofterWare, Inc.

SofterWare, Inc., based in Horsham, Pennsylvania is a leading provider of software to nonprofit organizations, with over 10,000 clients throughout the world. In addition to the company's DonorPerfect fundraising software, SofterWare also offers software for managing childcare centers, public and private schools, and camps and conference centers. For more information on SofterWare and its products, please visit www.softerware.com. For more information on DonorPerfect Fundraising Software, please visit www.donorperfect.com.
Media Contact.
Sam Goldenberg
215-542-4390 x233
sgoldenberg@softerware.com
www.donorperfect.com