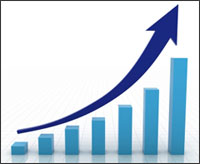 Horsham, PA, December 15, 2008 — An analysis of actual non-profit fundraising results, released today by SofterWare Inc., a leading vendor of fundraising software products, suggests that the downturn in the economy and the stock market is not necessarily resulting in fewer donations to small and medium size non-profits.
The analysis looked at a cross section of non-profit organizations that use SofterWare's DonorPerfect Online fundraising application. According to SofterWare CEO, Douglas Schoenberg, "Since DonorPerfect Online is a web-hosted application, it was actually pretty simple for us to run reports and analyze the donation totals recorded by a sample group of our clients during 2008. We had seen so much in the press about the impact the economy and stock market was going to have on fundraising, and we realized we were in a pretty unique position to get a snapshot on what was really happening at non-profits."
Jon Biedermann, Vice President – DonorPerfect Division, noted, "We specifically targeted the analysis at a sampling of non-profits that have been using our online product for several years." He explained that "Since our new clients typically show a more than 20% increase in fundraising results when they first use our products, we wanted to eliminate these new clients from biasing the analysis."
Summary of Results
Total Gifts ($) 2008 vs. 2007

Sept. – Oct (2 Months)

5.4%

Jan – Oct (10 Months)

3.72%

Average organization size in sample group
(Revenue – $US): $372,026.90

Number of organizations in sample group: 347
Mr. Schoenberg further observed, "The data shows growth in donations was actually greater in September and October than for 2008 overall. So while the news headlines were already pretty scary during this time period, the donations were quite strong. Typically, the last two months of the year are the busiest times for individual gifts, so there are often delays in clients entering all of their data. We'll certainly run this analysis again for the full year and 4th quarter; however we'll need to allow some time to ensure that we get valid results."
Mr. Biedermann noted, "These results are actually quite consistent with past history." He cited a recent Giving USA Foundation report entitled Giving During Recessions and Economic Slowdowns. "It found that since 1969, total giving in the United States, measured in current dollars, has risen every year except 1987, and that was due to a change in tax law that prompted people to give early."
Mr. Biedermann concluded, "Obviously, there have been other recessions and stock market declines during that period, so it's reassuring to know that the current situation for non-profits may be less dire than some people portray it. Non-profits absolutely do need the continued support of foundations and the public, and there seems to be ample evidence that the country's generosity remains strong, even during financially stressful periods such as these."
About SofterWare, Inc.

SofterWare, Inc., based in Horsham, Pennsylvania is a leading provider of software to nonprofit organizations, with over 10,000 clients throughout the world. In addition to the company's DonorPerfect fundraising software, SofterWare also offers software for managing childcare centers, public and private schools, and camps and conference centers. For more information on SofterWare and its products, please visit www.softerware.com. For more information on DonorPerfect Fundraising Software, please visit www.donorperfect.com or www.donorperfect.ca.
Media Contact
Sam Goldenberg
215-542-4390 x233
sgoldenberg@softerware.com
www.donoperfect.com