Free application gives fundraising and other nonprofit professionals access to their donor data anywhere, anytime.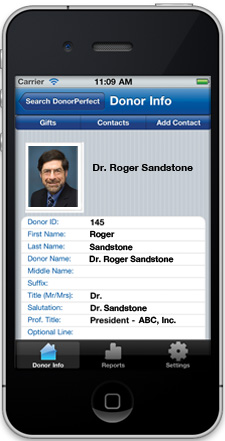 Horsham, PA, March 29, 2012 – SofterWare, Inc. the developer of DonorPerfect Fundraising Software, will officially unveil the first full-featured mobile fundraising software for nonprofits during the Association of Fundraising Professionals (AFP) International conference in Vancouver, Canada. This is the first approved iPhone, iPad and Android fundraising software application released to the nonprofit fundraising market.
Jon Biedermann, Vice President of Fundraising Products for SofterWare, noted "When we introduced one of the first web-based donor management systems over 10 years ago, we saw how useful it was to give our nonprofit clients anywhere, anytime access to their fundraising information. DonorPerfect Mobile continues that path of innovation, by leveraging the unique capabilities of mobile devices. Whether it's meeting with major donors, attending a special event, or just while traveling, our thousands of clients will enjoy the power and convenience of access to their DonorPerfect Online data even when away from a computer."
Here is a sampling of how DonorPerfect Mobile empowers nonprofit professionals:
View upcoming appointments
Look up constituent records, including contact information, notes, gifts, addresses & more
Call or email constituents with just a tap
Find donors near your current location
Take notes on major donor visits
Control security access for some or all mobile users
Tom Gimpel, SofterWare VP for Product Development noted, "Like all our software, it will be continually updated based on feedback from our users and uses the latest technology. Best of all, it's included in all of our pricing plans, continuing our tradition of providing ever increasing value to our customers without increasing the cost."
Available for iPhone, iPad and Android users, the application is FREE to all DonorPerfect Online users. iPhone and iPad users can click here to download the app, or simply visit the App Store and search for DonorPerfect. Android users can click here to download the app, or visit Google Play (formally called the Android Marketplace) and search for DonorPerfect.
To learn more, please visit: www.donorperfect.com/mobile.
About SofterWare, Inc.

SofterWare, Inc., based in Horsham, Pennsylvania is a leading provider of software to nonprofit organizations, with over 10,000 clients throughout the world. DonorPerfect, its fundraising/CRM solution, received more "Excellent" ratings than any other vendor in N-TEN and Idealware's "A Consumers Guide to Low Cost Donor Management Solutions". It also received the Campbell Award in 2010 for "Excellent Customer Satisfaction".
In addition to the company's DonorPerfect fundraising software, SofterWare also offers software for managing childcare centers, public and private schools, and camps and conference centers. For more information on SofterWare and its products, please visit www.softerware.com. For more information on DonorPerfect Fundraising Software, please visit www.donorperfect.com or www.donorperfect.ca.
Media Contact.
Sam Goldenberg
215-542-4390 x233
sgoldenberg@softerware.com
www.donorperfect.com