DonorPerfect Introduces Integrated Fee Collection via Mobile Fundraising Software App
Nonprofits using DonorPerfect Online web-based donor management software can collect credit card payments and gifts anywhere, anytime.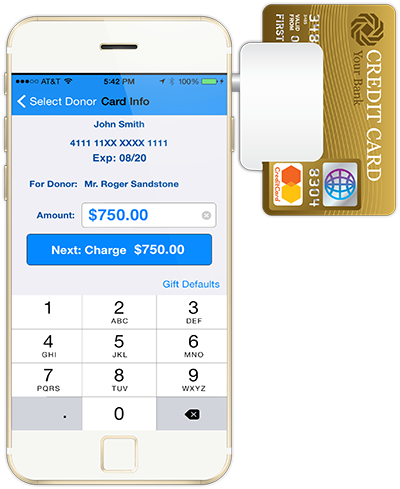 September 22, 2015 – Horsham, PA — DonorPerfect, developer of the world's first CRM Fundraising App for iPhones and Android, announced the introduction of DPMobile Swipe. DonorPerfect clients can collect payments anywhere, from the office to a donor's home, to a fundraising event, via the DPMobile app on their phones and tablets. Clients can enter payment information directly into the phone, or "swipe" a credit card via an encrypted mobile card reader. The transaction will be processed, recorded, receipted, and acknowledged automatically within the DonorPerfect CRM fundraising software system.
Jon Biedermann, Vice President of Fundraising Products for SofterWare, said "Collecting payments on mobile devices is not new, but doing it the right way for nonprofits is new, and it's a game changer! Some payment providers don't encrypt their payments, or they associate payments to the person who owns the phone and not the nonprofit itself. Worse, some other payment apps lose all the historical data if the phone owner leaves the organization! We built our mobile payment app for nonprofits, not food trucks or flea markets." He continued, "With DPMobile, users enter encrypted and secure payments right from their device. Because DPMobile is tied to their DonorPerfect system, the data and payments are associated with their organization, not the person who owns the phone or device. Best of all, because DPMobile Swipe uses our SafeSave merchant services, funds are deposited the next day into the nonprofit's account automatically."
Here is a sampling of DPMobile Swipe features that empower nonprofit professionals:
Automatic matching of donor information to records in DonorPerfect
For new donors, instant record creation in DonorPerfect from the app
Real-time authorization of payments
Automatic recording of successful payments as gifts in each donor's DonorPerfect record
Acknowledgements can be sent by email instantly after each payment
Process both hand-keyed and swiped credit card transactions (encrypted swipe reader available at a nominal cost)
Optional signature capture
Optional card reader for "swiping" credit cards
Mr. Biedermann also noted, "Like all our software and the app itself, DPMoble Swipe uses the latest technology and will be continually updated based on feedback from our users. Best of all, it's included in all of our pricing plans.DonorPerfect is continuing our tradition of providing ever increasing value to our dedicated customers without increasing the cost."
Cory Stine, Executive Director at the Terra College Foundation, was an early adopter of DPMobile Swipe. He said, "We have never been able to efficiently collect credit card payments at our golf outing until this year, thanks to the DPMobile Swipe Reader. We had so many people lined up to use it that we bought a second reader so we could process payments even faster for future events. The ease-of-use and convenience made for a much better donor experience, and our board of directors absolutely loved it."
The DPMobile app is FREE to all DonorPerfect users. Besides normal credit card transaction fees, there are no additional fees to use DPMobile Swipe. Collecting payments via the mobile app is currently available for iOS devices, and will be available for Android at a later date.
To learn more, please visit www.donorperfect.com/mobile.
About SofterWare, Inc.

SofterWare, Inc., based in Horsham, Pennsylvania is a leading provider of software to nonprofit organizations, with over 10,000 clients throughout the world. DonorPerfect, its fundraising/CRM solution, received more "Excellent" ratings than any other vendor in N-TEN and Idealware's "A Consumers Guide to Low Cost Donor Management Solutions". It also received the Campbell Award in 2010 for "Excellent Customer Satisfaction".
In addition to the company's DonorPerfect fundraising software, SofterWare also offers software for managing childcare centers, public and private schools, and camps and conference centers. For more information on SofterWare and its products, please visit www.softerware.com. For more information on DonorPerfect Fundraising Software, please visit www.donorperfect.com or www.donorperfect.ca.
Media Contact.
Sam Goldenberg
215-542-4390 x233
sgoldenberg@softerware.com
www.donorperfect.com