With the acquisition of ReadySetAuction, DonorPerfect will further enhance nonprofits' fundraising efforts through cloud-based auction software that powers silent, live, mobile, and online auctions.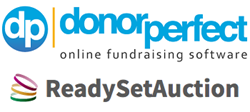 HORSHAM, PA (PRWEB) OCTOBER 06, 2016
SofterWare, Inc., a company that provides DonorPerfect fundraising software to more than 10,000 nonprofit clients, has purchased ReadySetAuction (RSA), a privately held company that has managed over $300 million in auctions for more than 3,000 nonprofits since its founding in 2003.
ReadySetAuction President & CEO Sam Weiss said, "My co-founder, Lisa Weiss, and I are delighted to have SofterWare acquire ReadySetAuction. We've been incredibly impressed with their capabilities to ensure a successful future for ReadySetAuction and our clients."
Jon Biedermann, Vice President of SofterWare's Fundraising Products said, "Fundraising auctions are a significant way that many nonprofits generate funds for their mission, but managing these events can be complex and time-consuming. ReadySetAuction was an early innovator in developing fully web-based solutions that handle all the major tasks for running a successful event – including tracking attendees, donations of goods and services, catalogs, sponsorships, guest seating, mobile bidding, and check-out, to name a few. We've had a successful partnership with ReadySetAuction for several years, and their product already integrates with DonorPerfect and our DonorPerfect Payments Gateway. This acquisition will allow us to make the two products work even more easily and seamlessly together in the future."
Unlike many other products on the market, ReadySetAuction allows nonprofit staff and volunteers to run their events themselves, which dramatically lowers the cost, making fundraising events affordable for virtually every nonprofit. DonorPerfect has used that very same approach to become the top-rated fundraising and donor management software solution for small to medium sized nonprofits.
Mr. Biedermann noted further, "We're also excited about the potential to offer existing ReadySetAuction clients the opportunity to use DonorPerfect to expand their fundraising efforts beyond fundraising auctions. Nonprofits can no longer rely on just one approach to their fundraising, and DonorPerfect provides tools for managing annual campaigns, recurring giving, online donations, direct mail and email, as well as events."
About DonorPerfect
DonorPerfect is a complete fundraising and donor management solution. It enables nonprofits to raise more money and cultivate valuable donor relationships by minimizing time-consuming administrative tasks and organizing constituent data easily and effectively to save time and raise more money.
About SofterWare, Inc.
SofterWare, the parent company of DonorPerfect Fundraising Software, has been developing and supporting software that is easy to learn, use, and customize since 1981. For over 30 years, SofterWare has grown exponentially from a small entrepreneurial business to a $40 million+ company with over 10,000 nonprofit, childcare, camp, school, and payment processing clients.