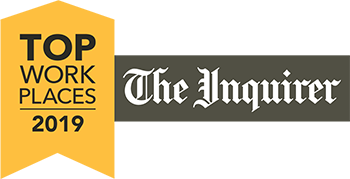 FORT WASHINGTON, Pa. – May 17, 2019 SofterWare, Inc. has been awarded a Top Workplaces 2019 honor by The Philadelphia Inquirer. The list is based solely on employee feedback gathered through a third-party survey administered by research partner Energage, LLC, a leading provider of technology-based employee engagement tools. The anonymous survey measures several aspects of workplace culture, including alignment, execution, and connection, just to name a few.
"Top Workplaces is more than just recognition," said Doug Claffey, CEO of Energage. "Our research shows organizations that earn the award attract better talent, experience lower turnover, and are better equipped to deliver bottom-line results. Their leaders prioritize and carefully craft a healthy workplace culture that supports employee engagement."
SofterWare was founded in 1981 and has grown from a small entrepreneurial business to a $72 million+ company with over 10,000 nonprofit, childcare, camp, school and payment processing clients.
SofterWare Co-Founder and CEO Doug Schoenberg noted, "We're honored to have won this award for the eighth time in the last ten years. Attracting and retaining great staff is the most critical driver of our success. We view our employees as another important set of customers that we need to delight and view this recognition as an indicator that we're doing that well."
SofterWare Co-Founder and President Dr. Nathan Relles said, "Our success and continued growth is a credit to the outstanding professionalism of our people and their commitment to our nonprofit and child care clients. We're fortunate to have clients whose missions inspire us to help them succeed and that align with one of our core values to Give Back to our community.
"Becoming a Top Workplace isn't something organizations can buy," Claffey said. "It's an achievement organizations have worked for and a distinction that gives them a competitive advantage. It's a big deal."