Network for Good's DonateNow online giving solution integrates with SofterWare's DonorPerfect donor management system to provide seamless online fundraising.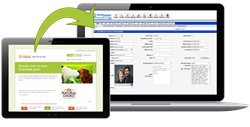 Horsham, PA – March 10, 2014. Network for Good, with its leading online fundraising product for nonprofits, DonateNow, and SofterWare, developer of the leading donor management product, DonorPerfect, announced that they have integrated their top-rated products to provide nonprofits a comprehensive and integrated online donation and donor management solution. Nonprofits need software products that work seamlessly together and both Network for Good and SofterWare recognize that in addition to their own products, integrating with other leading products is a great way to help nonprofits achieve their goals.
Bill Strathmann, CEO for Network for Good, said, ÒThis partnership gives DonateNow clients a new way to maximize online donations. WeÕre making it easier for nonprofits to combine online giving with proven fundraising techniques to improve the donor experience, drive greater giving, and build stronger relationships. Once in DonorPerfect, nonprofits can track the success of all their campaigns, uncover hidden trends, cultivate major donors, improve donor retention, and much more. This combination is the ideal, best-of-breed online fundraising and donor management solution – it's going to help nonprofits fulfill their missions."
DonateNow represents a great option for DonorPerfect clients who want the convenience of offering online giving without the need to establish their own merchant account. DonateNowÕs custom online donation pages inspire giving and encourage more recurring donations than traditional giving pages, helping organizations raise more money for their cause. The integration will synchronize donation data between DonateNow and DonorPerfect so that users of both systems donÕt have to manually reconcile data, de-duplicate donor information, or deal with importing and exporting data.
Doug Schoenberg, CEO for SofterWare, said, "Like DonorPerfect, Network for Good is committed to providing easy-to-use and cost-effective solutions to small to medium size nonprofits, and we're delighted to partner with them. Both companies have a strong history working with other leading technology providers, but this relationship is particularly exciting since it's a great launch of our initiative to significantly expand the offering of third-party solutions available to DonorPerfect clients."
To learn more about Network for Good, please visit http://www.networkforgood.org.
About SofterWare, Inc.

SofterWare, Inc., based in Horsham, Pennsylvania, is a leading provider of software to nonprofit organizations, with over 13,000 clients throughout the world. For more information on SofterWare and its products, please visit www.softerware.com.
Media Contact
Sam Goldenberg
(215) 542-4390 x233
sgoldenberg@softerware.com
www.donorperfect.com
About Network for Good
Since 2001, more than 100,000 nonprofits have used Network for Good to raise over $1 billion in online donations. Through Network for GoodÕs simple and affordable online fundraising products, nonprofits can quickly and easily boost their online fundraising results. Network for Good was recently named one of the top three providers in Nonprofit Software by Capterra. To learn more about how nonprofits are raising more with DonateNow and Network for GoodÕs other online fundraising tools, please visit http://www.networkforgood.org/npo or call 1-888-284-7978, option 1.
DonateNow Custom Online Donation Pages
DonateNow, the all-in-one solution for online fundraising, gives nonprofits an easy way to create customized donation pages that inspire giving and encourage recurring donations. Unlike other donation processing tools, DonateNow was built on more than a decade of online giving experience and includes proven best practices.