November 8, 2021 | Categories Conferences, DonorPerfect Community Network Conference, DonorPerfect Fundraising Software, Featured
From Transactional to Transformational: 5 Steps to Human-Focused Fundraising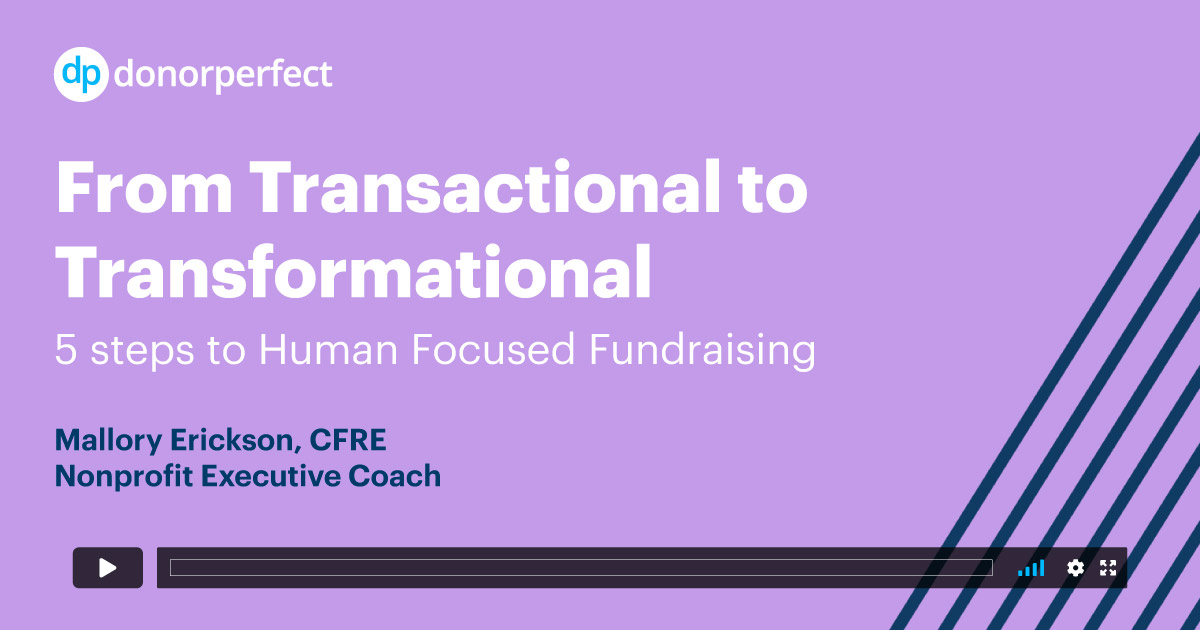 Download the workbook »
Everyone has heard buzz about "transactional vs. transformational." In this session, Mallory is quick to myth-bust any misconceptions about this trope – talking about money isn't what makes a donor relationship feel transactional, rather, it's acting like the money is all that matters. Mallory explains that you can have a transactional conversation with a donor without even mentioning money – the difference lies in listening to them vs. actually hearing them.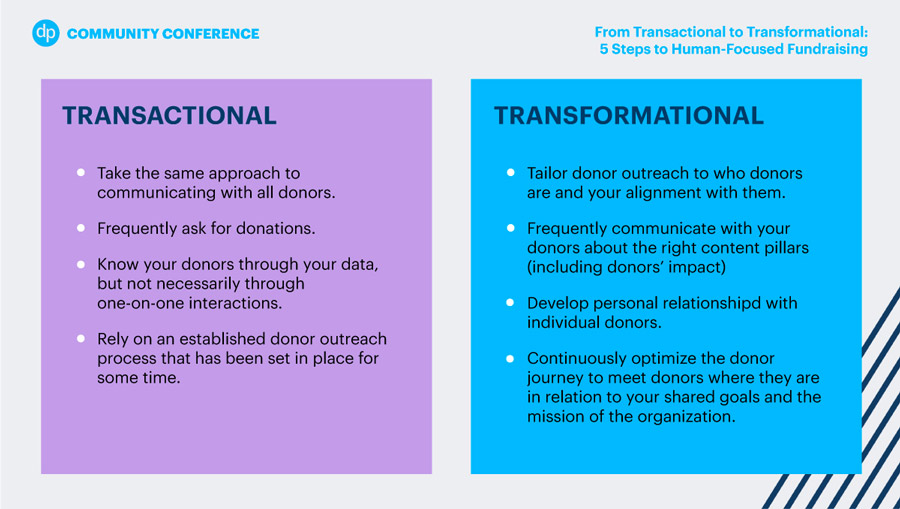 So how do we combat "transactional" and actually hear our donors?
Mallory presents a fundamentally different way to show up as a fundraiser:
Understand that transactions aren't inherently bad – donors feel great about investing in a cause they care about – but keep your focus on the conversations leading up to the transaction, and commit to open and honest communication.
When speaking with your donors, listen to their motivations and goals instead of listening for data to enter into your CRM.
Be transparent and respectful by exploring mutually-beneficial opportunities that align with the goals of your organization.
Step 1: Understand your donors
Activate empathy, not sympathy – put on "donor lenses"
Release judgment and tunnel vision – enter with an open mind
Step out of the time scarcity mindset – be fully present
Get curious and go deeper – avoid generic questions
Step 2: Segment your donors
Mallory explains how and why fundraisers should segment their donors by both persona AND alignment:
Persona – Wear the right "lenses" when you determine how you'll communicate with each persona. Look at their giving levels, frequency, and recency. Instead of sending one homogenous message, go deeper. What is their motivation and capacity to give? Focus on what your data tells you about your donors.
Alignment– Understand how the donor aligns with your organization and highlight that in future communications. Specifically, look at their event attendance and campaigns funded to see how the donor aligns with your organization. What does their behavior tell you about them? Show them what your organization is doing to create the world or community you are both working toward.
Step 3: Communicate with your donors
Build community and belonging – let your audience self-identify as your people
Keep your community problem-aware – clarify core messaging
Make people feel hopeful and impactful – provide prompts to take action
See what fundraisers are saying about this session
Your Data-Driven Persona Checklist