October 17, 2018 | Categories Donor Management, DonorPerfect Fundraising Software, DonorPerfect Update, Featured
Release Announcement: 3 Search Tips to Manage Donor Information
Nonprofit professionals are some of the busiest people on the planet! If you're like most DonorPerfect users, the Search function is key to getting things done. Whether you are adding a gift, a donor or both, Search helps you save time and manage donor information quickly and easily.
Given how much Search is used, it's not surprising that we've received LOTS of feedback from our customers about it. That's why in the latest release of DonorPerfect, due out this weekend, we've implemented 6 different suggestions to improve how Search works. (You can find them here, here, here, here, here, and here! WOW! Thank you so much for all your awesome ideas!) We also had multiple sessions where clients participated in our development and design cycle to improve the Search function. The results of this collaborative effort with our customers is a much better DonorPerfect Search experience.
Here's how you can leverage all the Search improvements:
1. Adjust Search Results on the Fly
Who wants to scroll down to see the results of a search? Now you don't have to! We've moved where you enter your search criteria to the left side of the screen. The new, improved Search Criteria layout makes it easier to find additional fields to search by without having to waste time clicking to expand sections. Your search results appear immediately in the right part of the screen, making it easier to manage donor information.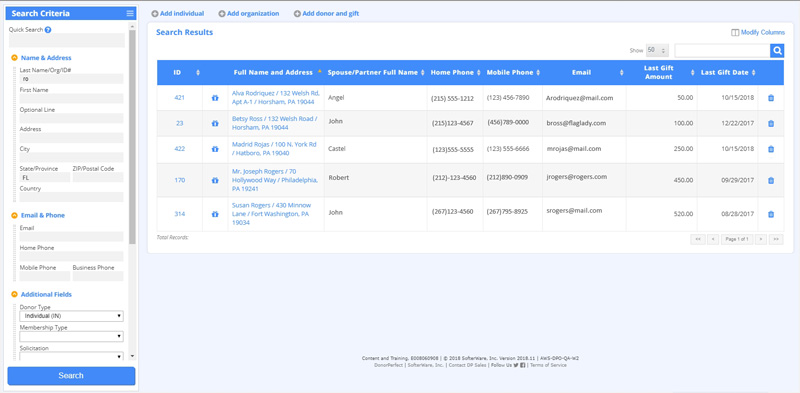 Didn't get the results you wanted? You can quickly add additional search criteria, without leaving your search results. For example, if you searched for all Individual Donors with the last name of Rodriquez, you could narrow it down by searching for those only in those in the state of Florida. If you click on a donor from your search results to review their donor record, there's no need to rerun your search. You can click the back button to return to any previous results.
2. Customize Your Search Criteria to Manage Donor Information
Did you know you can add up to 10 additional fields to your search criteria? This is an incredibly powerful feature of Search that can help you use your constituent data in so many different ways.
For example, let's say you need medical supplies for your latest Mission trip? Simply add Occupation (BIO.OCCCODE) to your Search Criteria to find constituents in the medical field. There are endless ways to customize your Search Criteria to manage donor information to suit your needs. Here's how to get started:
Click the collapsed menu (also called a "Hamburger" menu) on the right side of the Search Criteria window.
Select Manage Search Fields.
To add up to 10 fields, click the Plus sign.
Save your fields when done.
The fields will appears in the Search Criteria window on the left side of the screen.
For full instructions, visit Adding Fields to the Advanced Search Screen.
3. Personalize Your Search Results
Once you've customized your Search Criteria, take time to personalize how the results are displayed. Click the Modify Columns link to personalize which columns are displayed and the order they appear in the Search Results screen. In the example below, we selected Last Gift Amount (LAST_CONTRIB_AMT) and Last Gift Date (LAST_CONTRIB_DATE) as additional columns since this would be helpful information to know when contacting a supporter.
Another improvement in the Search Results window is in the default number of results returned. You told us you wanted this increased to 50!
Help Shape the Future of Fundraising
So much of this month's release was driven by the invaluable feedback we received from customers like you. Do you want to guide what we improve in DonorPerfect and help prioritize future product enhancements? Join our Voice of the Customer in Everything (VOCE) panel. You could participate in focus groups, usability tests, surveys and other opportunities with our product development team. Your feedback can help shape the future of fundraising!
Release Notes
Our Search improvements are designed to help you manage donor information but they aren't the only upgrade in this release. Read about all of the enhancements in the DonorPerfect 2018.10 Release Notes in the Knowledgebase in DP Community.